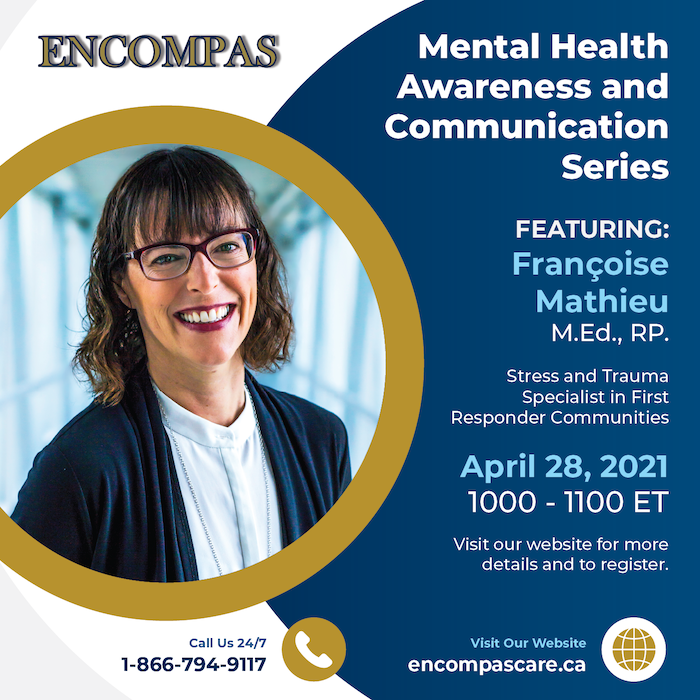 April 28, 2021 Speaker Series – Featuring Françoise Mathieu, M.Ed., RP.
Françoise is a stress and trauma specialist and has worked with the LAPD Homicide and Peer Support Divisions, the Los Angeles County Probation Anti Human Trafficking Taskforce, Edmonton Police Major Crimes Unit, RCMP K Division, West Fargo PD, Cleveland PD, the Ontario Provincial Police, and with many other similar organizations.
Before becoming a specialist on stress and trauma, Françoise worked as a mental health provider doing both crisis management and employee support for military personnel returning from combat duties, Corrections Canada, law enforcement, 911 communicators and other community mental health professionals in need of psychological support.
Françoise is executive director of TEND, whose aim is to offer consulting and training to professionals on topics related to secondary trauma, burnout, self-care, wellness and organizational health. Françoise is a Registered Psychotherapist and a subject matter expert on topics related to secondary traumatic stress.
Please join us on April 28th, 2021, from 1000 – 1100 ET for a conversation with Françoise as she shares information about TEND Academy resources that will be available soon through Encompas via the newly released Member's Only Portal. In May, the Portal will expand to include a Resource Library which will house uniquely curated evidence-informed resources specifically for Encompas Members including the TEND resources Francoise will share with you.   She looks forward to talking with you about the value these can bring to you in your wellness journey.
About the Series:
The Series will alternate monthly between virtual Open Houses and a Speaker's Series. Both the Open Houses and Speaker Series will include 30-45 minutes of presentation, followed by 15-30 minutes for questions and answers.
Speaker Series:
These presentations will provide education on topics and solutions for healing and resilience.  They will also showcase some of the speciality services such as Residential Treatment or Intensive Outpatient treatment.
Note: To ensure your anonymity, your registration information will ONLY be available to the hosts from Dalton Associates. Registrants will NOT have the option of turning on their camera or microphone at any time. Questions will be managed through the text Q&A which are sent only to the hosts – Dalton Associates. They will either answer those questions verbally without referencing the name of the participant who asked the question, or privately through the text function.
All sessions will be delivered through the PHIPA complaint version of Zoom Webinar.
If you have any questions, please do not hesitate to contact encompas@daltonassociates.ca