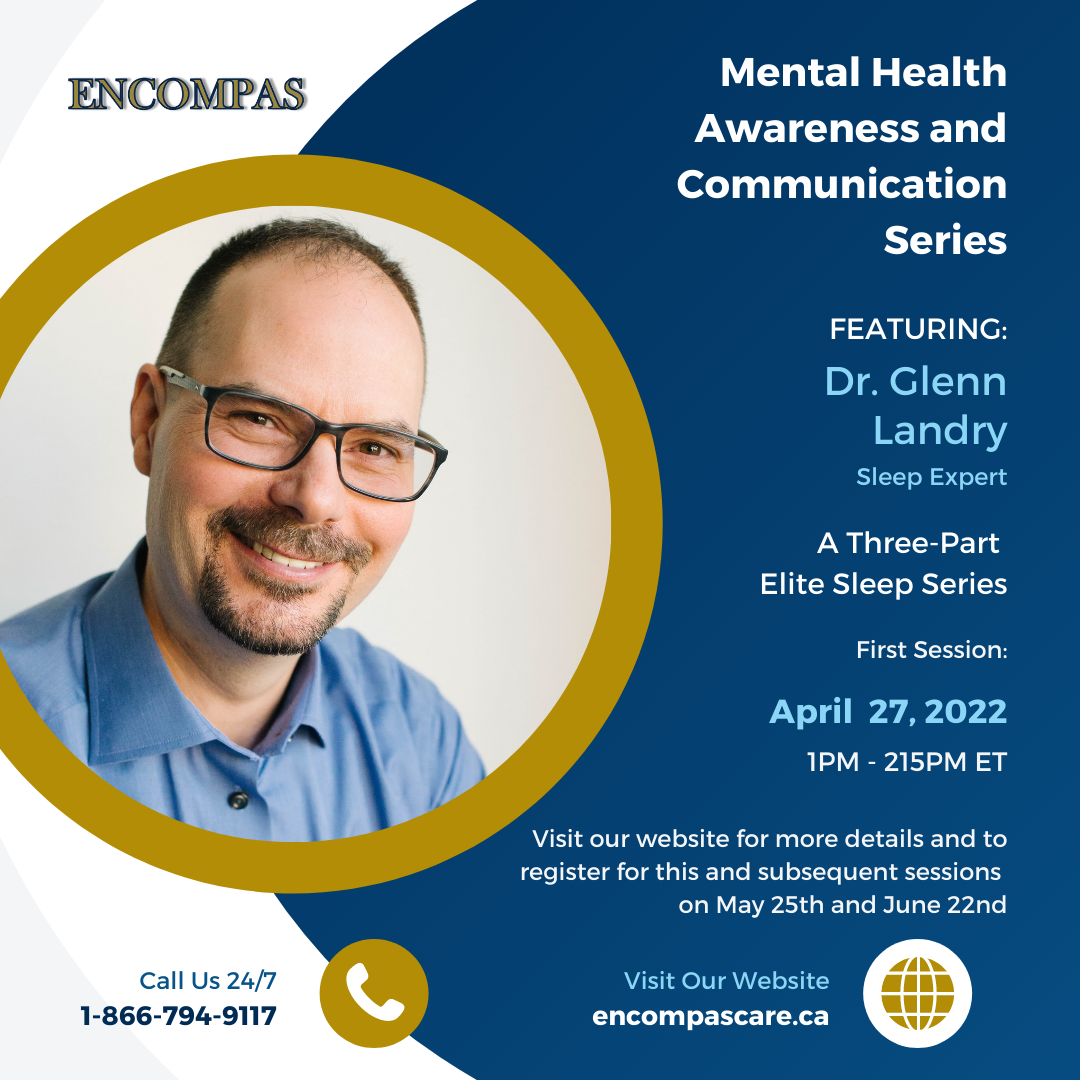 Série de sensibilisation et de communication sur la santé mentale
April 27th, May 25th and June 22nd, 2022 – 1PM – 215PM ET
Featuring Dr. Glenn J. Landry, Sleep Expert
About the Speaker:
Glenn Landry has studied circadian rhythms and sleep for over 20 years. He completed his graduate research at Simon Fraser University, exaimining circadian mechanisms of entrainment, supervised by Dr. Ralph Mistlberger and supported by grants from MSFHR and NSERC. He then focused his research efforts on sleep, aging and cognition as a CIHR postdoctoral fellow in Dr. Teresa Liu-Ambrose's Aging, Mobility, and Cognitive eurosvience Lab at UBC. His research there explored age-related changes in sleep duration, efficiency and architecture that contribute to or accelerate cognitive decline in older adults. As an academic, Glenn's goal was to develop chronotheapeutic interventions capable of delaying cognitive decline in older adults, with the objective of improving quality of life, productivity, and extending capacity for independent living. Now in private practice, Glenn is a sleep coach. He works with older adults, shift workers, and families to improve physical and mental health throughout better sleep quality by translating sleep science into practical interventions tailored to each client.
About the First Session of the Three-Part Series:
Elite Sleep #1 – Sleep Matters!
We kick off this series with an introduction to the consensus sleep science explaining why, if you want to be elite, you need to first become an Elite Sleeper. We explain how sleep health impacts every aspect of human health and performance. Participants will learn: (1) what defines Elite Sleep (i.e., optimal sleep architecture); (2) how to objectively measure their sleep architecture; and (3) how to begin their journey toward better sleep health.
To learn more about Dr. Landry and the next two sessions which build on one another, download the Three-Part Series Information Booklet by clicking here. If you are unable to participate, you will be able to watch a recorded version on the Encompas website, by clicking here. 
---
Click here to Register for the Series
---
Remarque: pour garantir votre anonymat, vos informations d'inscription seront UNIQUEMENT disponibles pour les hôtes de Dalton Associates. Les participant(e)s n'auront PAS la possibilité d'allumer leur caméra ou leur microphone. Les questions seront gérées par le chat de questions-réponses qui ne sera envoyé qu'aux hôtes - Dalton Associates. Ils ou elles répondront à ces questions soit verbalement sans faire référence au nom du (de la) participant(e) qui a posé la question, soit en privé par le biais de messages textes.
All sessions will be delivered through the PHIPA compliant version of Zoom Webinar.
Si vous avez des questions, n'hésitez pas à contacter encompas@daltonassociates.ca