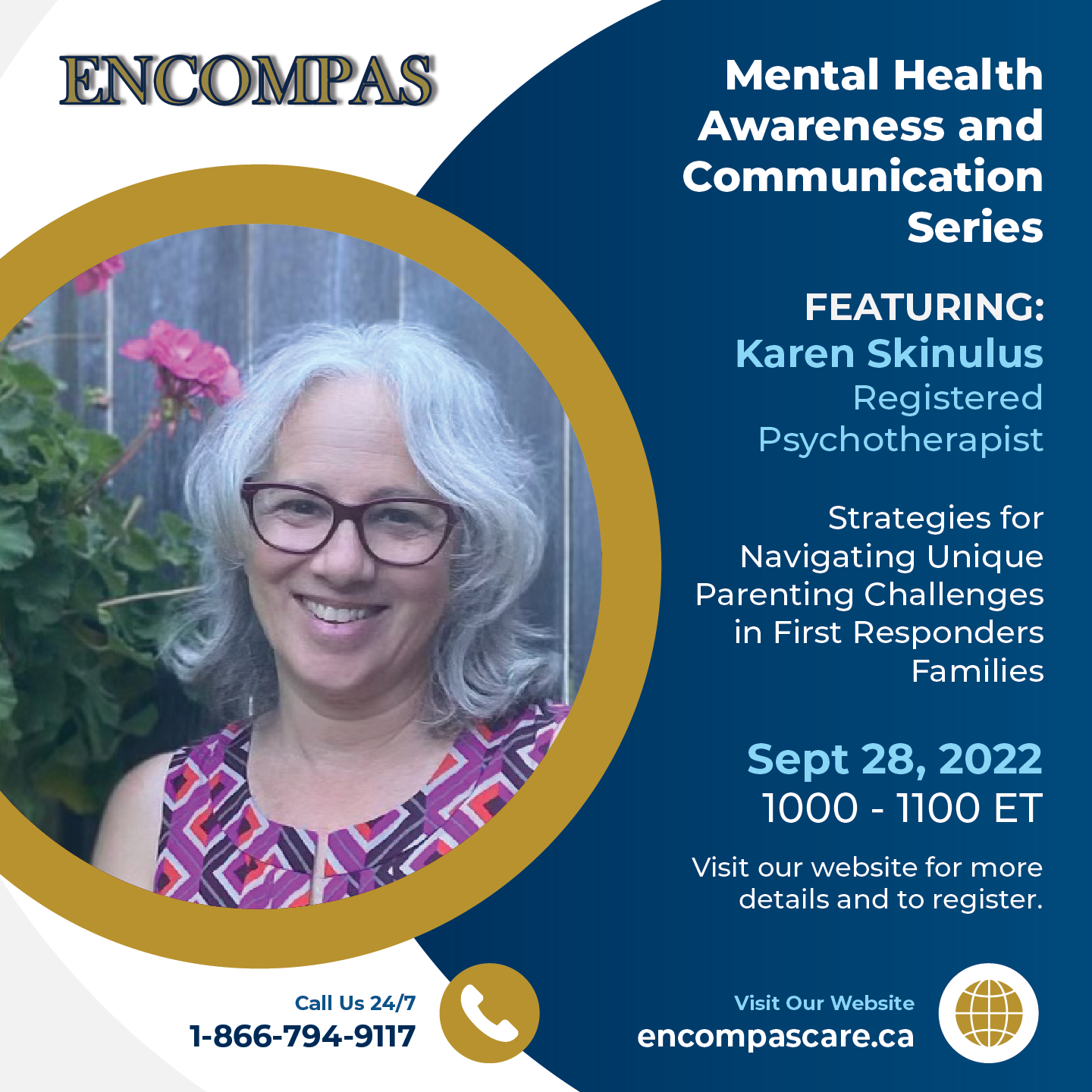 Série de sensibilisation et de communication sur la santé mentale
Strategies for Navigating Unique Parenting Challenges in First Responders Families
September 28th, 2022 – 1000 – 1100 ET
Featuring Karen Skinulus, Registered Psychotherapist
About the Speaker:
Karen Skinulis is a Registered Psychotherapist and specializes in working with parents, families, adolescents and individuals on a range of issues including: parenting (all developmental stages), child behavior, self-esteem, communication, anxiety/depression, divorce/separation/co-parenting, school-related concerns, and teen issues. Karen has co-authored several parenting and teacher books and appeared as a guest parenting expert for a variety of popular news media – the Globe and Mail, CBC, Global TV, and City Life magazine.
About the Session:
Please join us on Wednesday September 28th from 10am – 11am for a conversation with Karen Skinulis on Strategies for Navigating Unique Parenting Challenges in First Responders Families. The First Responder's job brings special challenges to both parents and their children. Shift-work, overtime and last minute scheduling changes can leave you feeling like you aren't providing the continuity and predictability your child needs. It may also be hard to transition from a stressful shift to family time. Your child/teen may feel anxious about the risks inherent in your work. They may not understand why you need time to unwind after a shift or have trouble being present. This talk will explore ways we can effectively cope with these challenges (and others) by focusing on both the child's and parent's perspective. First, to address our children's worries by listening and responding with empathy and information, and secondly to help ourselves set reasonable and realistic parenting goals. A focus on communication and problem-solving skills will give you the tools you need to better meet these challenges.
---
Click here to Register for the Series
---
Remarque: pour garantir votre anonymat, vos informations d'inscription seront UNIQUEMENT disponibles pour les hôtes de Dalton Associates. Les participant(e)s n'auront PAS la possibilité d'allumer leur caméra ou leur microphone. Les questions seront gérées par le chat de questions-réponses qui ne sera envoyé qu'aux hôtes - Dalton Associates. Ils ou elles répondront à ces questions soit verbalement sans faire référence au nom du (de la) participant(e) qui a posé la question, soit en privé par le biais de messages textes.
All sessions will be delivered through the PHIPA compliant version of Zoom Webinar.
Si vous avez des questions, n'hésitez pas à contacter encompas@daltonassociates.ca