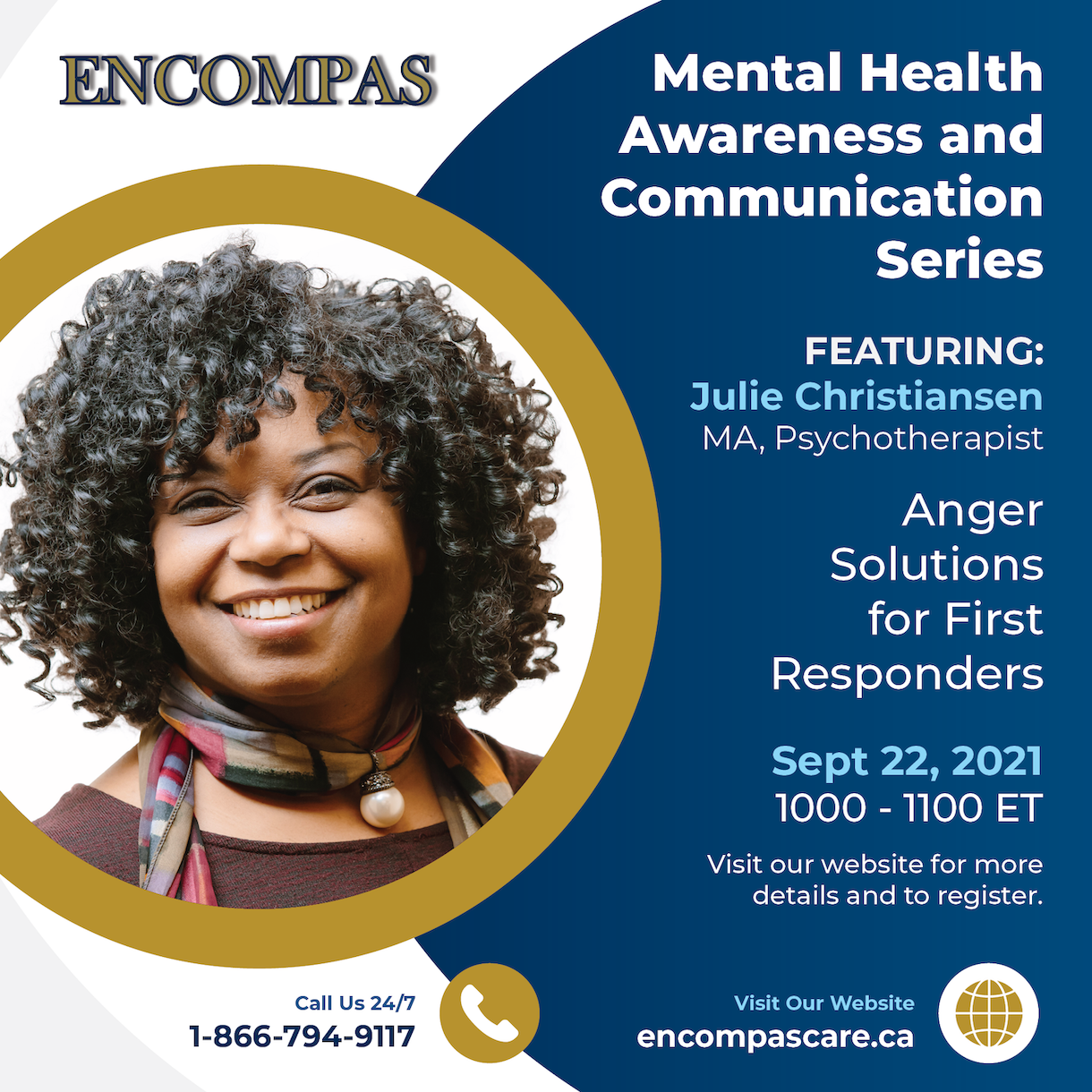 Série de sensibilisation et de communication sur la santé mentale
September 22nd, 2021 – 1000 – 1100 ET
Featuring Julie Christiansen, MA
---
Register in advance for this webinar: 
https://us02web.zoom.us/webinar/register/WN_ZM5-Ao0tRpmPDDCcNEMqGg
---
About the Speaker:
Julie Christiansen, MA, is an award-winning international public speaker, author, and psychotherapist. Julie developed the Anger Solutions method of anger resolution, and has authored several books about anger, stress, bullying and coping with crisis. Known as "The Anger Lady", she has appeared as an expert for various print, radio, and television media outlets. Over the course of her career, Julie has worked with National Defense (Land Force Area HQ), the RCMP, municipal police, correctional officers, and military veterans.
About the Session:
Please join us on Wed September 22nd 10am-11am for a conversation with Julie Christiansen on "Anger Solutions for First Responders". This presentation explores the typical challenges faced by first responders and the rationale for a course that deals specifically with anger. Julie will discuss the common misconceptions about anger and the key principles that serve as the foundation for the Anger Solutions program which is featured on the Encompas portal. Julie will review the unique approach to first responder emotional states and provide an overview of the Anger Solutions course available to all members through the Encompas portal. For assistance registering for the Encompas program, please call 1-866-794-9117 to speak to an Encompas Care Manager. Encompas members can access the portal by clicking the "Portal Login" button on the www.encompascare.ca website.
Remarque: pour garantir votre anonymat, vos informations d'inscription seront UNIQUEMENT disponibles pour les hôtes de Dalton Associates. Les participant(e)s n'auront PAS la possibilité d'allumer leur caméra ou leur microphone. Les questions seront gérées par le chat de questions-réponses qui ne sera envoyé qu'aux hôtes - Dalton Associates. Ils ou elles répondront à ces questions soit verbalement sans faire référence au nom du (de la) participant(e) qui a posé la question, soit en privé par le biais de messages textes. 
Toutes les sessions seront délivrées par le biais du webinaire Zoom conforme aux normes de la LPRPS.
Si vous avez des questions, n'hésitez pas à contacter encompas@daltonassociates.ca
---
Register in advance for this webinar: 
https://us02web.zoom.us/webinar/register/WN_ZM5-Ao0tRpmPDDCcNEMqGg
---