Equine-Assisted Psychotherapy – Charmed Horse Assisted Wellness Centre
C. Psych, LSP, Equine Specialist - Eagala Certified Professional
---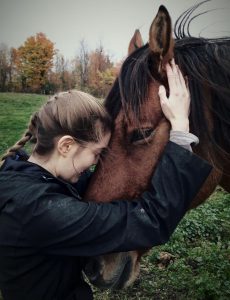 Charmed Horse Assisted Wellness Centre is located between Kingston and Napanee, just 20 minutes north of Camden East/Millhaven Highway 401 exit and offers Equine-Assisted Psychotherapy (EAP), which is an alternative modality of experiential therapy and unlike traditional methods. Our wellness treatment team consists of a registered Psychologist, a horse specialist, and some horses in each session. There is no previous horse knowledge required, and no horse riding involved, as it all takes place on the ground. Horses use their instinctual ability to read body language and emotions around them, as they would in the wild. The horses may become metaphors and symbols of one's life story, and react to the energy around them giving the client the opportunity to come to their own solutions while practicing new coping skills in a safe place without judgement.
Horses have the ability to help lower stress hormones and help to put a smile on one's face and in one's heart. Equine-Assisted Psychotherapy aids in the healing and development of new coping skills for many mental health struggles, such as, but not limited to PTSD, PTSI, CPTSD, OSI, anxiety, depression, ADD/ADHD, substance addictions, eating disorders, divorce, bereavement, stuck in life, low self-esteem, as well as for those wanting to experience self-discovery, spiritual growth and a stronger connection with their family.
Psychologist: Laura Nicholson
Laura is a sincere and passionate practitioner in the field of clinical psychology who has 20+ years of clinical experience to offer adult and adolescent clients with a wide range of emotional, behavioural and adjustment problems, anxiety, trauma, depression and relationship problems. She has helped many clients to "get back to their old selves again" from some pretty dark places. In her practice, her goal is that you always feel respected, cared for and that the therapeutic relationship is authentic. Laura is excited to be providing equine-assisted psychotherapy. Please note she is not taking clients into her talk therapy practice.
Equine Specialist & Owner: Donna O'Connell
Donna is a retired member of the RCMP. She was also a member of the Joint Forces Operation Penitentiary Squad with the Ontario Provincial Police, Kingston Police Services and Correctional Services of Canada. Donna has received her training through EAGALA and is a certified Equine Specialist. Coming from a policing background, Donna's passion is to help first responders suffering with PTSD, as well as others who would benefit from healing or team building through horses.
Contact the Encompas Care Management Team to
Request an Appointment
Contact the Encompas Care Management Team to
Request an Appointment
Therapist Information
Languages Spoken
English
Therapist Type
Equine Specialists - Eagala Certified Professional, Registered Psychologist
Conditions Treated
Alcohol Addiction, Self-Esteem and Identity Issues, Drug & Alcohol Use, Occupational Stress Injury, Addiction, ADHD, Anxiety, Depression, Divorce & Separation, Eating Disorders, Grief & Bereavement, Post Traumatic Stress Disorder (PTSD), Self Esteem
Therapeutic Approaches
Equine Assisted Psychotherapy
Vous voulez de l'aide pour
trouver un ou une bon(ne) thérapeute?
Appelez-nous ou envoyez un courriel à Encompas