Julie Clarke
MACP, SEP, Registered Psychotherapist
---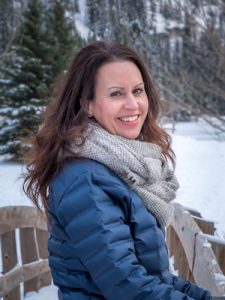 Julie is currently only providing services for member clients, including retirees or new recruits.
---
Julie works specifically from a trauma informed lens with a developmental, strengths based/solution focused and body-oriented approach.
Julie's goal is always to meet each individual where they are at, not where they are "supposed" to be. Building a strong therapeutic relationship is the first priority when meeting clients and evidence shows this is a good indicator of better outcomes in therapy. She loves her job and what she does and has a passion for helping others. Her approach and technique are what make her a sought after local Ottawa-valley clinician. The Ottawa-valley is where she grew up and raised her two young adult sons.
Julie has specialized training and experience in body-oriented psychotherapy known as Somatic Experiencing® (SE™). This is a psychobiological trauma resolution method for resolving symptoms of trauma and relieving chronic (operational) stress. An SE™ practitioner is required to complete many hours of training both existential and theory plus additional hours of personal sessions and case consultations over a 2-3 year period.
If an individual remains in a fight, flight or freeze response state they can render themselves stuck in the body's protective motor responses; thwarted survival energy is bound up in the body (for example: clenching, tension, tightness, shortness of breath). This can seriously impair a person's ability to function with resilience and ease in their daily life.
Trained SE™ practitioners aim to release traumatic shock that remains in the body through their approach. This includes emotional wounds from early developmental attachment trauma in a safe and effective way that aims to help nervous system regulation and re-connect to the life you want to be living.
Julie is a Somatic Experiencing® Practitioner and Registered Psychotherapist in Ontario, Canada. Chronic and operational stress + trauma are her areas of focus. She prioritizes active and retired members in her practice.
Contact the Encompas Care Management Team to
Request an Appointment
Contact the Encompas Care Management Team to
Request an Appointment
Therapist Information
Offers Distance Counselling
Age Groups Served
Adolescents, Child Elementary, Early Adolescents, Late Adolescents, Adults, Older Adults/Seniors
Languages Spoken
English
Counsellor's Gender
Female
Therapist Type
Registered Psychotherapist
Conditions Treated
Social Anxiety, Somatic Symptoms, Pornography Addiction, Assertiveness, Amputee Issues, School Problems, Parenting, emotional regulation, Relaxation, Relationship Problems, Retirement, Social Skills Development, Chronic Fatigue / Fibromyalgia, Neurocognitive, PTSD & Stressor-Related, Sleep-Wake, Personality, Issues related to being in conflict with the law, Moral Injury, Occupational Stress Injury, Impulse Control and Conduct, Sanctuary Trauma, Gender Dysphoria, Sexual Issues, Sexual Dysfunction, Abuse, Addiction, ADHD, Adjustment issues, Adoption/Foster Care, AIDS/HIV, Alcohol Abuse, Anger Management, Anxiety, Bipolar Disorder, Body Image, Borderline Personality Disorder, Boundaries, Brain Injury Counselling, Bullying - School, Bullying - Workplace, Career and Work Related Issues, Career/Work Performance Issues, Change and Transition, Childhood Sexual Abuse, Chronic Illness, Codependency, Communication and Intimacy, Compassion Fatigue, Conflict Resolution, Criminal Behaviour, Crisis, Depression, Dissociative Disorders, Divorce & Separation, Eating Disorders, Ethnic/Minority Issues, Gender & Identity Issues, Grief & Bereavement, Infertility, Learning Disabilities, Marital Issues, Memory Issues, Menopause, Mood Disorders, Motor Vehicle Collisions, Obsessive Compulsive Disorder (OCD), Pain Management, Panic Attacks, Personality Disorder, Phobias, Post Traumatic Stress Disorder (PTSD), Postpartum Depression, Pre-Marital Counselling, Pregnancy/Childbirth, Rehabilitation, Relationship Issues, Seasonal Affective Disorder (SAD), Self Esteem, Self Harm, Sexual Orientation, Sleep Disorders, Stress, Stress Management, Suicidal Ideation, Terminal Illness, Trauma
Therapeutic Approaches
Physical Disabilities, Person-Centered, Anger Solutions, Attachment Therapy, Body Centered Therapy, Distance Counselling, Existential/Humanistic Therapy, Inner Child, Interpersonal Relationships, Long Term Therapy, Mindfulness, Psychodynamic, Teaching Intimacy, Trauma-Focused
Location
#101-2039 Robertson Rd. Nepean, ON K2H8R2

Monday - Friday: 10:00am - 7:00pm Weekend-
Distance Counselling
Also Available!
Vous voulez de l'aide pour
trouver un ou une bon(ne) thérapeute?
Appelez-nous ou envoyez un courriel à Encompas