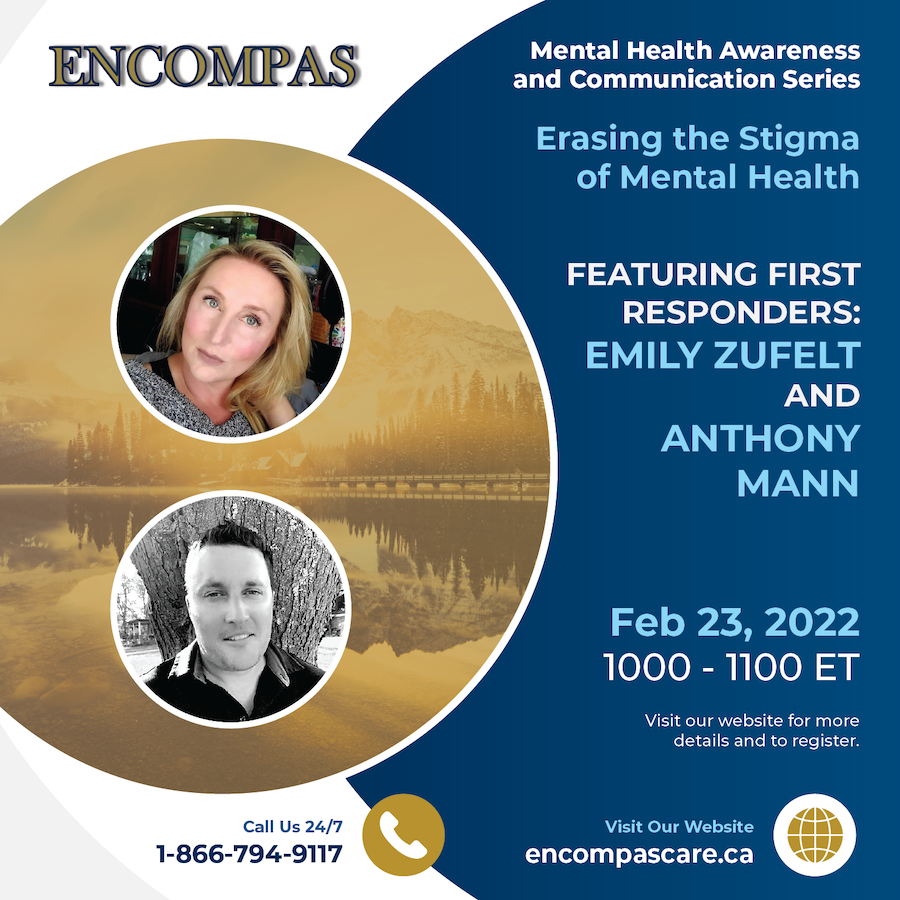 Mental Health Awareness and Communication Series
February 23rd, 2022 – 1000 – 1100 ET
Featuring Emily Zufelt and Anthony Mann 
About the Speakers:
Emily has worked in the field of policing for over 20 years in both uniform and civilian communications. Prior to policing, she worked within a Senior Support Centre, Community Housing and the Ottawa Rape Crisis Centre – all in an effort to improve the lives of those living in marginalized communities. Having been diagnosed with PTSD, Emily brings honest personal experience regarding the challenges of living with a PTSI while navigating the obstacle course of recovery and post traumatic growth. As the host of the mental health podcast "What's Your Twenty?", she uses her voice to advocate for the mental wellness of first responders, armed forces and veterans. Along with that of others, Emily shares her story about the challenges experienced in order to create a safe and accepting space for people to heal, have hope, and realize that they are not alone.
Anthony began Policing in 1998.  For most of his career, he has been in uniform, general patrol along with working with Major Crime, Drug Enforcement, and Community Service.
About the Session:
Please join us on Wednesday February 23rd from 10am – 11am for a conversation with first responders Emily Zufelt and Anthony Mann as they share how their connection through PTSD was the driving force behind the mental health podcast, "What's Your Twenty?". In having honest and raw conversations surrounding the hard topics of trauma, anxiety, depression, PTSI, and suicide, their goals include erasing the stigma for those struggling with mental health so that they too can find courage to seek help, talk openly about and find answers that will lead them toward a path of healing.
Click here to Register for the Webinar
Note: To ensure your anonymity, your registration information will ONLY be available to the hosts from Dalton Associates. Registrants will NOT have the option of turning on their camera or microphone at any time. Questions will be managed through the text Q&A which are sent only to the hosts – Dalton Associates. They will either answer those questions verbally without referencing the name of the participant who asked the question, or privately through the text function.
All sessions will be delivered through the PHIPA compliant version of Zoom Webinar.
If you have any questions, please do not hesitate to contact encompas@daltonassociates.ca