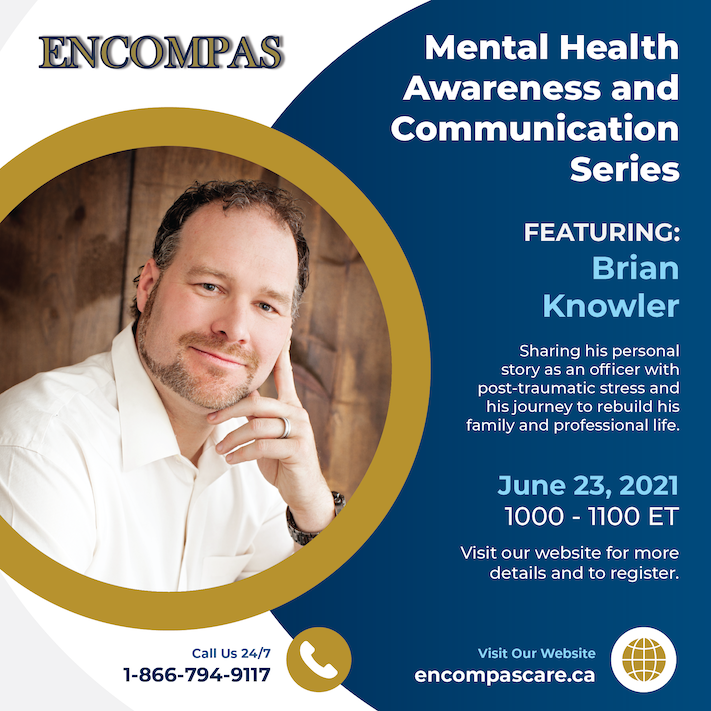 Mental Health Awareness and Communication Series
Encompas Mental Health Wellness Program
June 23, 2021 – 1000 – 1100 ET
Featuring Brian Knowler
In 2004, with five years of service time, Brian went through one of the worst experiences an officer can undergo – being directly involved with the death of someone you know. Brian tells the story of the impact of that night – depression, thoughts of suicide, alcohol, and work all creating a gap between himself, his family, and his own spirit. After crashing hard at the bottom of a long downwards spiral, Brian admitted he needed help; more importantly, he let people in to help him after building walls around himself for almost a decade.
The second part of Brian's story is about rebuilding his family and professional life, continuing to work while still navigating the ups and downs of post-traumatic stress. He discusses the important role leadership plays in his ongoing journey, looking at how strong leaders help pull you through the darkness and how a psychological injury impacts your own leadership style and skills as well. Brian ultimately wants to leave listeners with the knowledge that an operational stress injury does not have to be the end of your career, family, or life, and that growth is possible from even the worst times in your life!
Register in advance for this webinar:
https://us02web.zoom.us/webinar/register/WN_QlYeCrcsTqyOZqevSPojbA
Speaker Series:
These presentations will provide education on topics and solutions for healing and resilience.  They will also showcase some of the speciality services such as Residential Treatment or Intensive Outpatient treatment.
Note: To ensure your anonymity, your registration information will ONLY be available to the hosts from Dalton Associates. Registrants will NOT have the option of turning on their camera or microphone at any time. Questions will be managed through the text Q&A which are sent only to the hosts – Dalton Associates. They will either answer those questions verbally without referencing the name of the participant who asked the question, or privately through the text function.
All sessions will be delivered through the PHIPA complaint version of Zoom Webinar.
If you have any questions, please do not hesitate to contact encompas@daltonassociates.ca