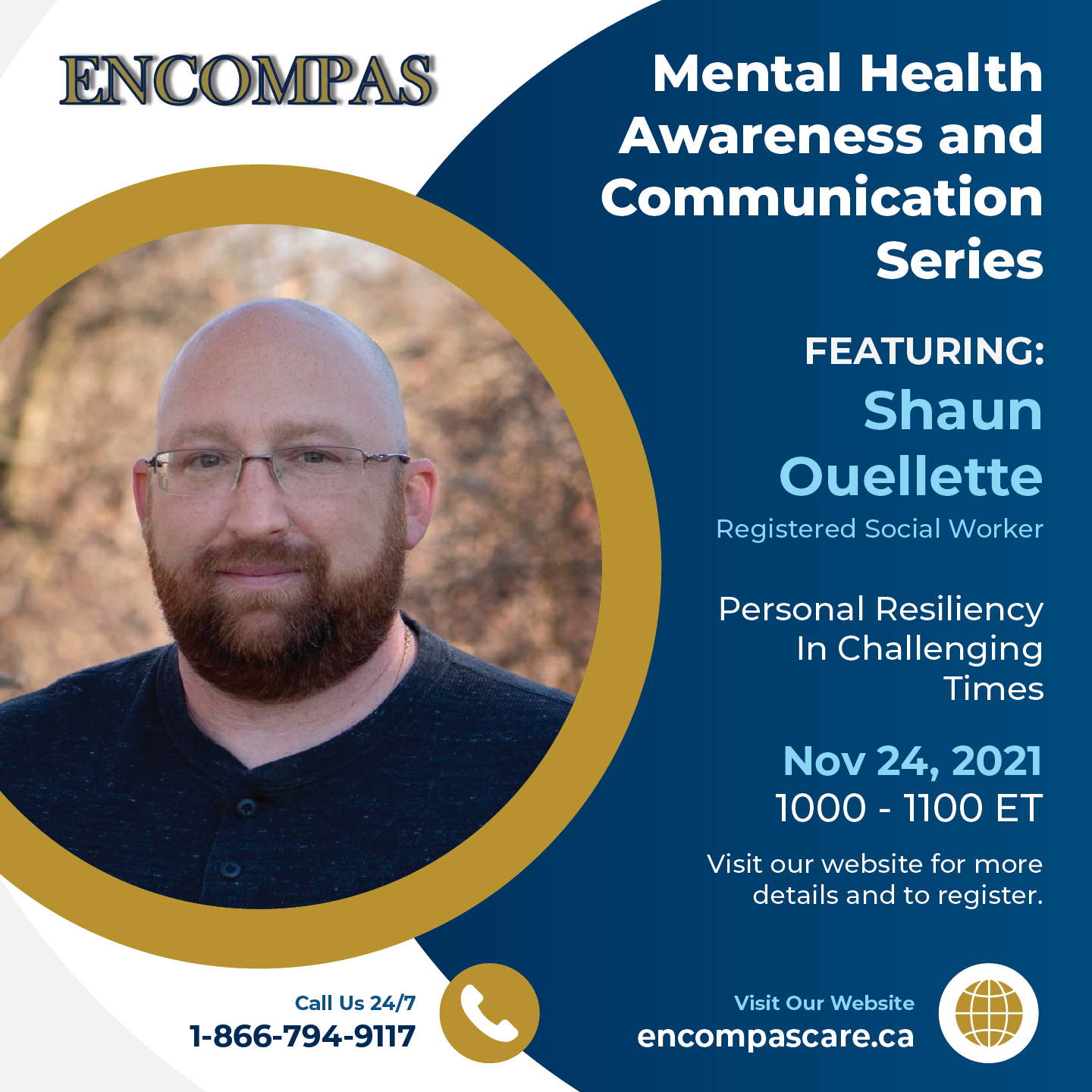 Mental Health Awareness and Communication Series
November 24th, 2021 – 1000 – 1100 ET
Featuring Shaun Ouellette, Masters-trained Registered Social Worker
Personal Resiliency in Challenging Times
About the Speaker:
Shaun Ouellette, a Masters-trained Registered Social Worker, has been working in the field for nearly 20 years and has worked in multiple capacities from front-line work to management and senior leadership positions. Shaun is a Registered Social Worker in Ontario, Manitoba and Northwest Territories and is experienced in multiple health and social service jurisdictions across Canada. He became involved with Dalton Associates in March 2020 and has experience working with the Encompas program as a mental health counsellor. In Shaun's private practice he does a great deal of work with first responders, supporting clients with Complex PTSD and clinically supervising other therapists. Shaun was a volunteer firefighter and paramedic for 4 years while living in the Northwest Territories and spends his free time teaching martial arts and spending time with his Siberian Husky.
About the Session:
Please join us on Wednesday November 24th 10am-11am for a conversation with Shaun on Personal Resiliency in Challenging Times. This practical, presentation will provide strategies and insight to help attendees adjust in challenging times.
Click here to Register for the Webinar
Note: To ensure your anonymity, your registration information will ONLY be available to the hosts from Dalton Associates. Registrants will NOT have the option of turning on their camera or microphone at any time. Questions will be managed through the text Q&A which are sent only to the hosts – Dalton Associates. They will either answer those questions verbally without referencing the name of the participant who asked the question, or privately through the text function.
All sessions will be delivered through the PHIPA compliant version of Zoom Webinar.
If you have any questions, please do not hesitate to contact encompas@daltonassociates.ca