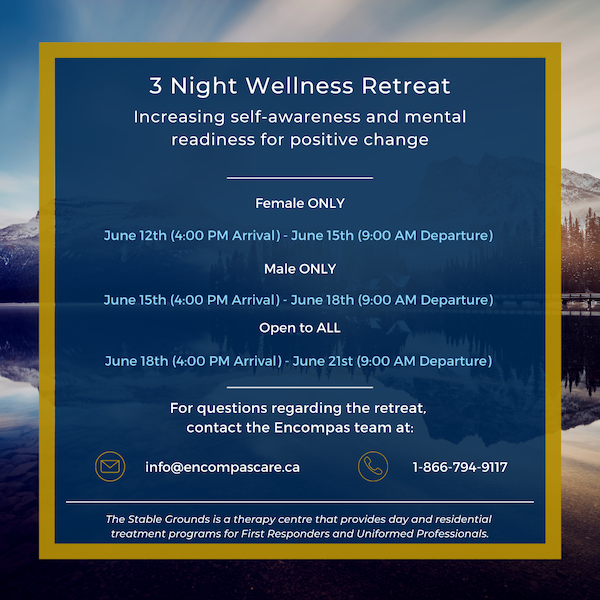 The Stable Grounds is hosting a 3-night wellness retreat for first responders in mid-June. The retreat aims to increase self-awareness and mental readiness for positive change. Each session is limited to ten residential participants.
Females Only
June 12 (4pm Arrival) – June 15 (9am Departure)
Males Only
June 15 (4pm Arrival) – June 18 (9am Departure)
Open to All
June 18 (4pm Arrival) – June 21 (9am Departure)
Retreat Content Includes:
Equine Assisted Learning
Cognitive and Dialectical Behavioural Therapy, EMDR
Neurofeedback
Occupational Stress Injury
Addiction and Occupational Therapy Information Session
Virtual Reality
Sanctuary Trauma
Individual and Group Sessions
If you're interested in this wellness retreat or another residential treatment program, please reach out to Encompas. Before any referral is made for residential or intensive outpatient treatment programs, we will confirm eligibility and ensure that the program is a clinically good match for your mental health challenges and goals.
Call us at 1-866-794-9117 or send us an email info@encompascare.ca  and an Encompas Care Manager can provide support.
About the Stable Grounds
The Stable Grounds Inc. is a privately owned and operated therapy centre, providing day and residential programs from 1 week through 3 months for current or retired Public Safety Officers (Fire, EMS, Police, Parole/Probation officers +) and Veterans who suffer from Post Traumatic Stress Injury (PTSI), anxiety, depression and more.
TSG offers a range of treatment options and focused care in a sprawling, yet intimate farm setting. TSG believes that their residential programs provide comprehensive treatment that improves recovery times and allows guests to work through the healing journey without interruption and with ongoing support. They recognize the importance of helping those who provide essential services to others and offer priority treatment to support the recovery process through a unique range of therapeutic options.