Anusha Venugopal
PhD, C. Psych, Registered Psychologist
---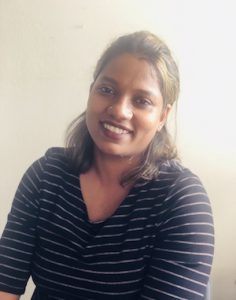 Dr. Anusha Venugopal is a Psychologist (Supervised Practice).  She holds active registrations in good standing with Ontario College of Psychologists.
Dr. Venugopal believes that every individual can achieve their full potential. There can be situations in life that shake us, and we lose our balance in life as a result.  She aims to help you regain your balance. It takes a lot of courage to seek help, and Dr. Venugopal appreciates your effort in taking the first step. Together, you will work towards overcoming challenges and living life to its fullest.
Dr. Venugopal's clinical expertise is in assessment and psychotherapy, including the modalities of cognitive-behavioral therapy, rational emotive behavior therapy, and client-centered therapies for depression, anxiety, eating disorders, post-traumatic stress, and any adjustment issues in life.
Her interest and experience with adolescents and adults have equipped her to handle children with behavioral and/or emotional difficulties through various strategies and coping mechanisms. Her experience also provides her the necessary skills to assist parents and teachers. As a therapist, Dr. Venugopal's compassionate and non-judgmental approach makes her an ideal fit for a diverse population.
Contact the Encompas Care Management Team to
Request an Appointment
Contact the Encompas Care Management Team to
Request an Appointment
Therapist Information
Offers Distance Counselling
Age Groups Served
Adolescents, Early Adolescents, Late Adolescents, Adults
Languages Spoken
Tamil, Marathi, English, Hindi
Counsellor's Gender
Female
Therapist Type
Registered Psychologist
Conditions Treated
School Problems, emotional regulation, Relaxation, Self-Esteem and Identity Issues, Abuse, Academic Performance Issues, Addiction, ADHD, Adjustment issues, Alcohol Abuse, Anger Management, Anxiety, Attachment, Behavioural Challenges, Bipolar Disorder, Body Image, Borderline Personality Disorder, Boundaries, Bullying - School, Bullying - Workplace, Career and Work Related Issues, Career/Work Performance Issues, Change and Transition, Childhood Sexual Abuse, Chronic Illness, Codependency, Communication and Intimacy, Conflict Resolution, Crisis, Depression, Divorce & Separation, Ethnic/Minority Issues, Grief & Bereavement, Learning Disabilities, Mood Disorders, Motor Vehicle Collisions, Obsessive Compulsive Disorder (OCD), Pain Management, Panic Attacks, Personality Disorder, Post Traumatic Stress Disorder (PTSD), Rehabilitation, Relationship Issues, Seasonal Affective Disorder (SAD), Self Esteem, Self Harm, Stress, Stress Management, Suicidal Ideation, Trauma
Therapeutic Approaches
Client-centered Therapies, Cognitive Behavioural Therapy, Rational Emotive
5 Locations Available
5075 Yonge Street, Unit 402, North York, ON, M2N 6C6

Monday to Friday – 10 am to 7 pm

100 East Street South, Bobcaygeon, ON K0M 1A0

Monday to Friday – 10 am to 7 pm

420 George Street North, Unit 308, Peterborough, ON K9H 3R5

Monday to Friday – 10 am to 7 pm

200 Dundas Street East, Unit 303, Belleville, ON K8N 1E3

Monday to Friday – 10 am to 7 pm

1 Crescent Rd, Huntsville, ON P1H 176

Monday to Friday – 10 am to 7 pm
Distance Counselling
Also Available!