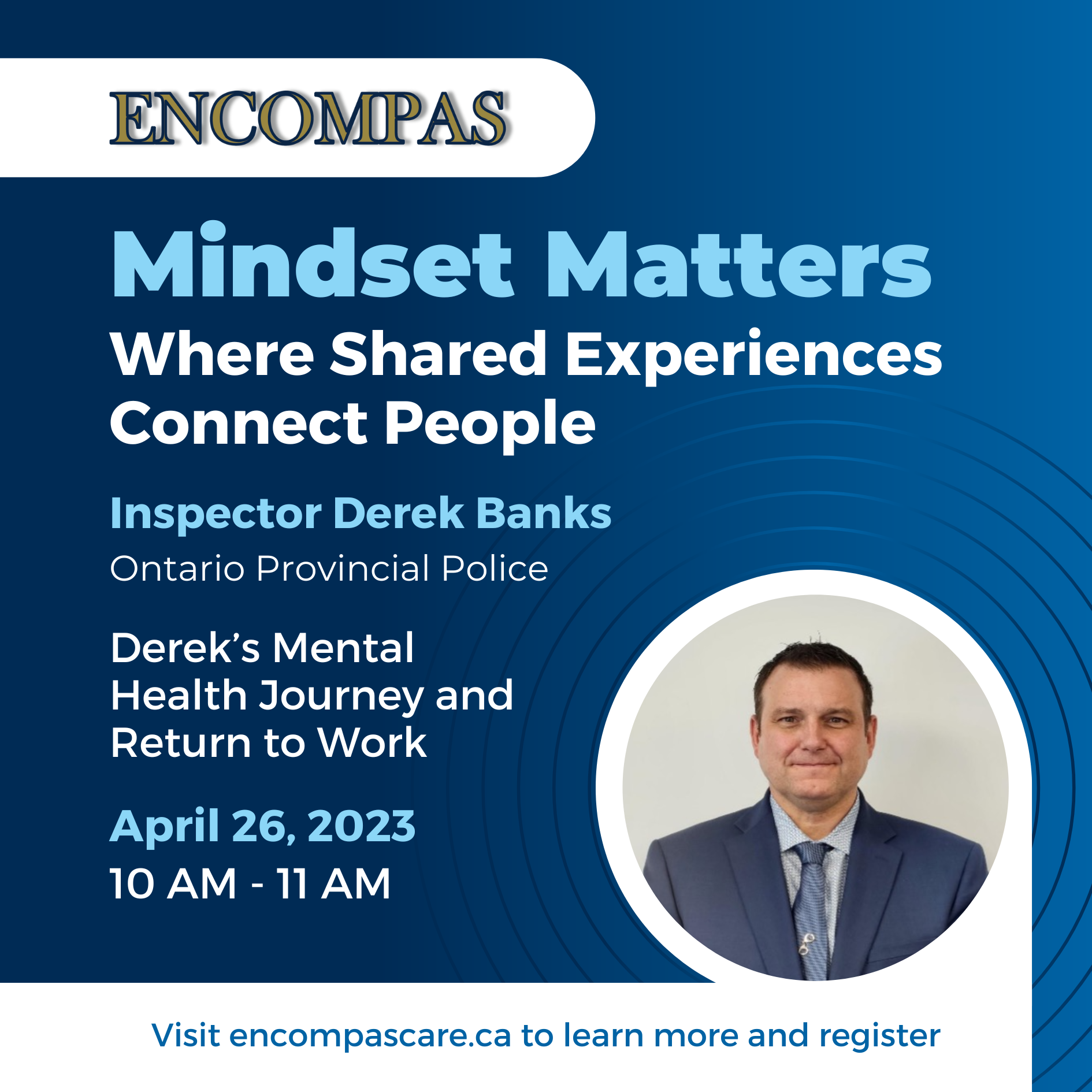 Mindset Matters – Where Shared Experiences Connect People
Programme de bien-être en santé mentale Encompas
April 26th, 2023 – 1000 – 1100 ET
Featuring OPP Inspector Derek Banks – Derek's Mental Health Journey and Return to Work
Register:
https://daltonassociates-ca.zoom.us/webinar/register/WN_T1AAKp3sSa-qt66KwOlmIQ
About the Speaker:
Derek Banks started his career with the OPP in 1995. He has served at the Mount Forest, Orillia, and Huronia West Detachments.  He spent 16 years with the Emergency Response Team leaving in 2015 to return to general patrol duties as a platoon Sergeant. Derek took a leave of absence in 2016 to focus on his personal wellbeing.  Since returning to duty, Derek has become involved with Peer Support work, mentoring and shares his story with the goal of eliminating the stigma attached to Mental Health. He is currently working in the Field Support Bureau as the Inspector of Specialized Field Resources.
About the Session:
Please join us on Wednesday April 26th from 10am – 11am for a conversation with Inspector Derek Banks as he courageously shares his lived experience of personal mental health challenges so that others can know they are not alone.  It is his goal to destigmatize mental health, advocate for increased mental health awareness and support, and to share what has worked for him in his recovery journey and return to work.     
Visit www.encompascare.ca to learn more.
Remarque: pour garantir votre anonymat, vos informations d'inscription seront UNIQUEMENT disponibles pour les hôtes de Dalton Associates. Les participant(e)s n'auront PAS la possibilité d'allumer leur caméra ou leur microphone. Les questions seront gérées par le chat de questions-réponses qui ne sera envoyé qu'aux hôtes - Dalton Associates. Ils ou elles répondront à ces questions soit verbalement sans faire référence au nom du (de la) participant(e) qui a posé la question, soit en privé par le biais de messages textes. 
All sessions will be delivered through the PHIPA compliant version of Zoom Webinar.
Si vous avez des questions, n'hésitez pas à contacter encompas@daltonassociates.ca