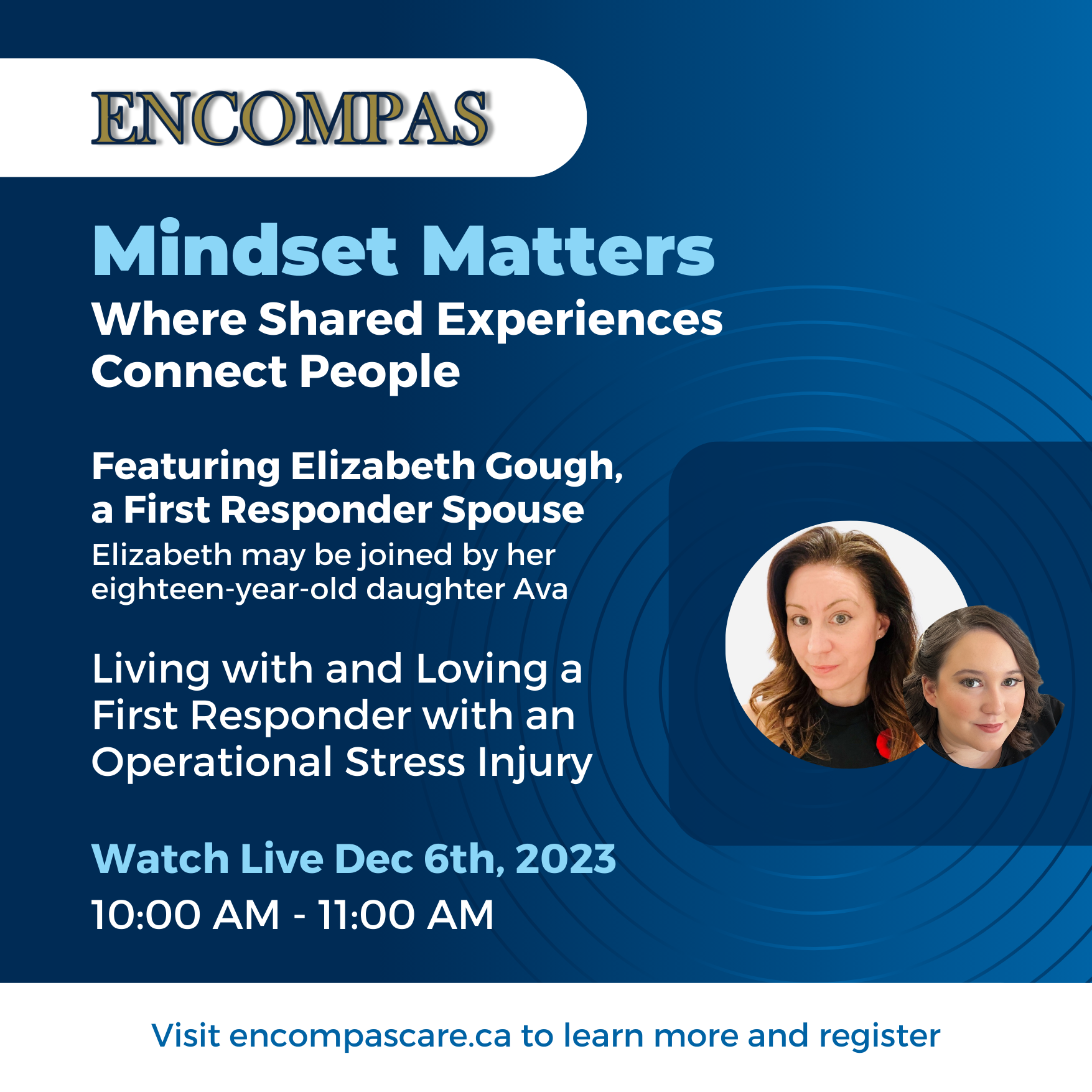 Mindset Matters – Where Shared Experiences Connect People
Wednesday, December 6th – 10:00am ET – 11:00am ET
Featuring Elizabeth Gough, a First Responder Spouse – Living with and Loving a First Responder with an Operational Stress Injury
About the Speaker:
Elizabeth is a First Responder spouse of both a Canadian Armed Forces reservist and Police Sergeant. Her husband of 20 years, Andrew Gough CD is a Military Police/Close Protection Operator and medically retired Police Sergeant with London Police Service. Together they founded V-EH! Veterans and Everyday Heroes in 2019 – a federal not-for-profit organization. They have spoken on a number of platforms, sharing their journey through an OSI to offer their reflections on Post Traumatic Growth. In Elizabeth's professional life, she is an Early Years Advisor with the Ministry of Education/Ontario Public Service and is also a dedicated community volunteer and leader on several initiatives to champion sport, children, and women's causes.  Elizabeth and Andrew have two teenage children and reside in St. Thomas Ontario.
About the Session:
Join us on Wednesday, December 6th, from 10:00am ET – 11:00am ET to have a conversation with Elizabeth Gough, a first responder spouse, as she provides an intimate and honest account of her experience living with and loving a first responder with an Operational Stress Injury. She will share reflections on her family's trauma journey – where their story with an OSI began and their collective experience with it. Elizabeth will take us on a journey through the difficult identification of the injury, her loving assertation that her spouse seek help, life and culture as a military and police family, parenting in a home of trauma, pathways of healing, and unexpected possibilities. Elizabeth may be joined by her eighteen-year-old daughter Ava who will share her reflection on growing up with a Dad with an OSI. This session will delve into the impacts of PTSD, not just on the serving member but also on the spouse and family.
Note: To ensure your anonymity, your registration information will ONLY be available to the hosts from Dalton Associates. Registrants will NOT have the option of turning on their camera or microphone at any time. Questions will be managed through the text Q&A which are sent only to the hosts – Dalton Associates. They will either answer those questions verbally without referencing the name of the participant who asked the question, or privately through the text function.
All sessions will be delivered through the PHIPA compliant version of Zoom Webinar.
If you have any questions, please do not hesitate to contact encompas@daltonassociates.ca