Psychiatric Services
At Encompas, we know that every person who reaches out for support requires a unique plan of care. As part of the Encompas Mental Health Wellness Program, and its large suite of mental health support services, eligible members have access to certain Psychiatric Services. Depending on a member's mental health wellness goals, as well as their strengths and challenges, our team may recommend Psychiatric Services so that we're able to effectively customize a plan of care.
Specifically, Encompas' Psychiatric Services are third-party assessments. The assessment includes:
Member Consent: The assessment can only be conducted if the member understands and consents to the Psychiatric Services offered. Consent is also received to share the assessment report with the Encompas Care Manager and the member's family physician;
Review of Medical History: Member provides the Psychiatrist (through their Care Manager) with any/all medical records of past mental health diagnoses and treatment, which may include a medication history. The member's Encompas Care Manager is able to facilitate compiling these records for the Psychiatrist if the client prefers, with the client's completion of a Consent to Disclosure form. The Psychiatrist will review all of these records prior to meeting with the member, as this ensures a more informed, robust assessment;
Interview: Psychiatrist and member meet for 1-2 hours (approximately) via secure, virtual clinic. The Psychiatrist will ask the member various questions during this interview; and,
Report: Psychiatrist will prepare a report that communicates any diagnostic opinions, as well as treatment recommendations/advice. This report will be reviewed by the member, their Care Manager (so that appropriate services can be activated within Encompas), and the member's family physician.
Through the assessment process, our team of Psychiatrists are able to provide:
Diagnostic opinion(s);
Treatment recommendations/advice; and,
Second opinion(s) on medications and prior diagnoses.
As usual psychiatric treatment is an OHIP funded services, Encompas is unable to provide ongoing psychiatric treatment. However, this component of the program can ensure comprehensive treatment planning, and integration with a treatment physician, to ensure wrap-around care for members.
Our Psychiatrists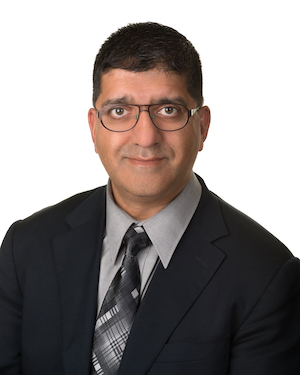 Dr. Rakesh Jetly
Dr. Jetly is a psychiatrist with may years of experience working with military and veterans in occupational health settings. Dr. Jetly is currently the Head of the Centre of Excellence on Mental Health, Directorate of Mental Health within the Canadian Armed Forces, and an associate professor of psychiatry at Dalhousie University and the University of Ottawa. He has published numerous articles in professional journals and presents nationally and internationally on such topics as post-traumatic stress disorder, operational psychiatry occupational mental health and leveraging technology in mental health.
Dr. Jetly has held various positions within the Canadian Armed forces including Chief of Psychiatry. He has operational experiences in settings such as Rwanda, the Middle East and Afghanistan.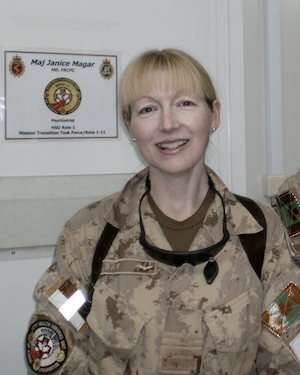 Dr. Janice Magar
After graduating from high school in 1985, Dr. Magar received a scholarship to Carleton University where she majored in Honours Math from 1985-87. She then attended the University of Ottawa for medical school, graduating with honours in 1991. After obtaining her MD she attended Dalhousie University where she completed a residency in Family Medicine from 1991-93.
Dr. Magar joined the Canadian Armed Forces in 1988 after her first year of medical school. Following her family medicine residency she was posted to Canadian Forces Base Kingston in 1993 where she worked as a medical officer until 1996. She then took her release from the military and entered private practice as a family physician from 1996-2000. In 2000 she returned to CFB Kingston where she practiced as a civilian contractor caring for military patients until 2004.
In 2004 Dr. Magar re-enrolled in the Canadian Armed Forces and completed a residency in Psychiatry at the University of Ottawa from 2004-2009. She was then posted to CFB Petawawa where she worked as a psychiatrist and Clinical Lead for the mental health clinic. In September 2011 she was deployed to Kandahar Airfield, Afghanistan, as part of Operation Athena Roto 11 where she worked in the mental health section of the Canadian Role 1 Health Services Unit.
Dr. Magar continued working as a psychiatrist and Clinical Lead for the mental health clinic in Petawawa until she retired from the military in 2017 after twenty years of service. From 2017 to present she has had a private psychiatry practice in Ottawa specializing in independent medical examinations.
Commander Kenneth J. Cooper CD, RCMS (Retired)
Commander Ken Cooper, Royal Canadian Medical Service (Retired), graduated from the Royal Military College of Canada in Kingston, Ontario in 1978 with a BA in Commerce. He then served as a naval officer on both coasts and earned an MBA from Dalhousie University in Halifax, Nova Scotia in 1984, through part-time study.
He entered medical school at Dalhousie University in Halifax in 1984 and graduated with a MD in 1988. After a rotating internship (also through Dalhousie), he came to service as a Medical Officer in the summer of 1989 in Halifax. In 1990 he was serving as the Medical Officer of HMCS Protecteur when the Gulf War broke out, and he spent the last half of 1990 and early 1991 in the Persian Gulf. On return, he was selected to do post-graduate training in Community Medicine and Addictions. From 1992 to 1994 he completed a Master of Health Science (MHSc) in Community Health and Epidemiology at the University of Toronto and did a clinical fellowship in Addiction Medicine at the Homewood Health Centre, Guelph, Ontario. From 1994 to 1996 he was the Director of the Canadian Forces Addiction Rehabilitation Program in Ottawa, and from 1996 to 1998 was the Director and Medical Officer of the CF Addiction Rehabilitation Clinic in Halifax.
In August 1998 he retired from the military and entered a residency program in psychiatry at Dalhousie University. He graduated in June 2002 and then worked as a civilian staff psychiatrist at the Canadian Forces Operational Trauma and Stress Support Centre (OTSSC) in Halifax. In September of 2008, Dr. Cooper re-enrolled in the CF and was appointed the Clinical Leader of Mental Health Services in Halifax. He was also appointed as the CF National Practice Leader for Addiction Medicine. From July through September 2011, he was deployed to Kandahar Airfield (KAF), Afghanistan as part of Operation Athena Roto 11 (MTTF). He worked in the mental health section of the Canadian Role 1 Health Services Unit, and at the American Role 2 Health Services Unit. For his work at KAF he was awarded the HSU Commanding Officer's Commendation and the HSU Commander's Coin of Excellence. In 2015, he was awarded the Surgeon General's Coin of Excellence.
He was promoted to Commander in November, 2013. In May 2014, as preparation for eventual compulsory retirement due to age (CRA), he transferred to the Primary Reserve and set up a private practice in Halifax. He retired from the Primary Reserve when he reached CRA in November, 2015. He continued to provide psychiatric service to CF Mental Health Services in Halifax on a part-time basis as a civilian staff psychiatrist until March 2020 while maintaining a private practice. Since March 2020, he has continued in private practice in Halifax.
Dr. Cooper has been an Assistant Professor of Psychiatry at Dalhousie University since 2002. He was the medical consultant to the Prescription Monitoring Program of Nova Scotia from 1999 to 2008. In 2009 and 2016, Cdr Cooper was a member of the CF Expert Panels on Military Suicide Prevention. From 2011 to 2015 Cdr Cooper was the RCMS representative on a NATO working group on military suicide prevention.