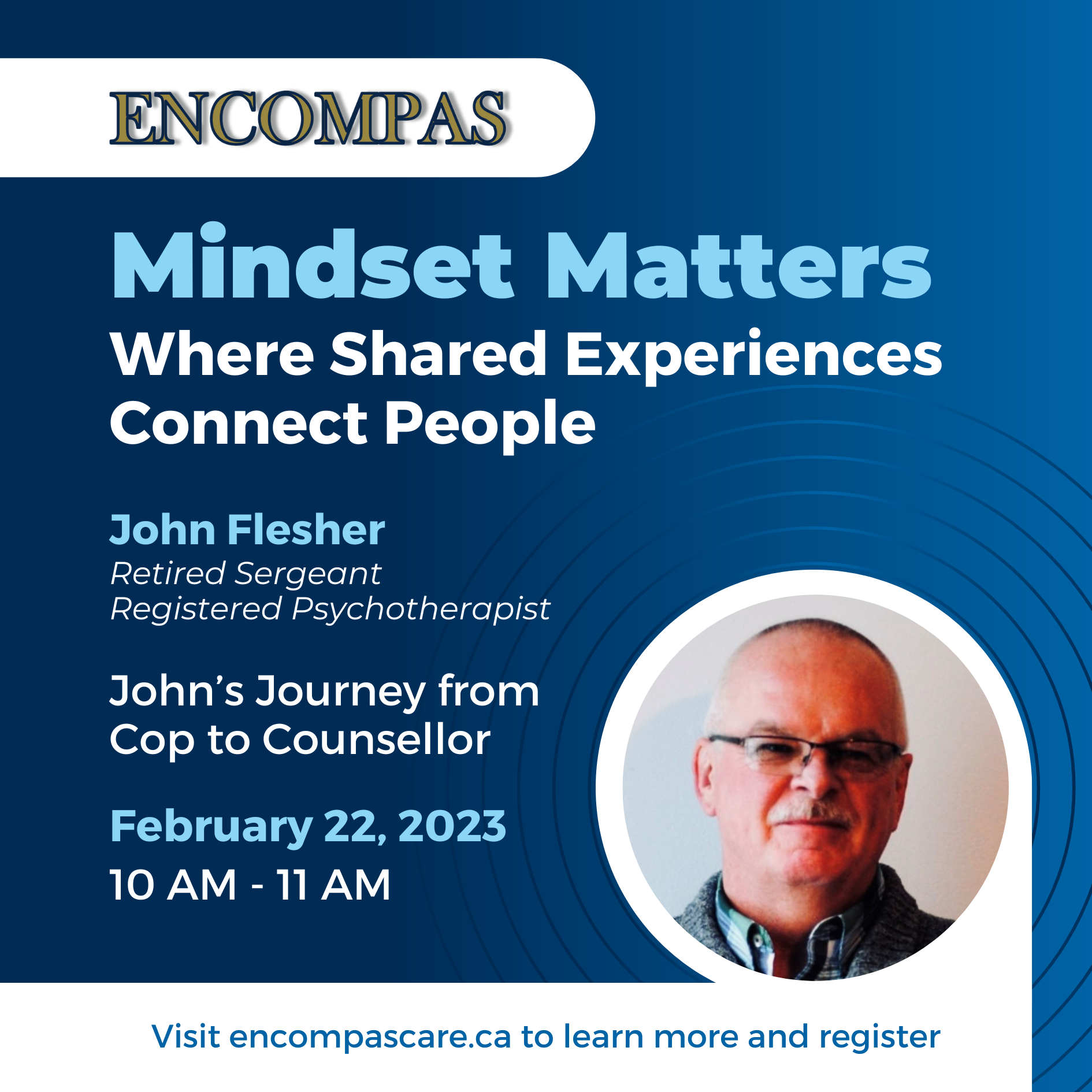 Mindset Matters – Where Shared Experiences Connect People
Encompas Mental Health Wellness Program
February 22nd, 2023 – 1000 – 1100 ET
Featuring John Flesher – John's Journey from Cop to Counsellor
Our Encompas Mental Health Awareness and Communication webinar series has been rebranded as "Mindset Matters – Where Shared Experiences Connect People."
Our goal with this Encompas series remains the same – to bring mental health awareness and promote open communication about mental health and wellness. Join us each month for insightful discussions, useful wellness tips, and a supportive community.
About the Speaker:
John is a retired Police Sergeant, now Registered Psychotherapist, and brings 30 years of front-line law enforcement experience and the passion for working with first responders and all those with trauma exposure, including family of origin, motor vehicle collisions or workplace and occupational stress injuries. John works from a client-centered, strength-based and solution-focused approach to promote incremental progress and growth with clients. John also provides the additional perspectives gained as a husband, father of two adult children and grandfather of five. John uses an integrative approach, using practical resources, visual illustrations, humour and motorcycle therapy to meet the clients where they are.
About the Session:
Please join us on Wednesday February 22nd, 2023, from 10am – 11am for a conversation with John Flesher as he shares his personal story of mental wellness and how he transitioned from being a police officer to a counsellor. Topics will include anger, anxiety, life after law enforcement, and John will also answer any questions submitted during the webinar.
---
Register:
https://daltonassociates-ca.zoom.us/webinar/register/WN_xQ7_q9nJRsaA9k8jOvIXcA
---
Note: To ensure your anonymity, your registration information will ONLY be available to the hosts from Dalton Associates. Registrants will NOT have the option of turning on their camera or microphone at any time. Questions will be managed through the text Q&A which are sent only to the hosts – Dalton Associates. They will either answer those questions verbally without referencing the name of the participant who asked the question, or privately through the text function.
All sessions will be delivered through the PHIPA compliant version of Zoom Webinar.
If you have any questions, please do not hesitate to contact encompas@daltonassociates.ca