Darryl DeRoches
MSW, RSW, Registered Social Worker
---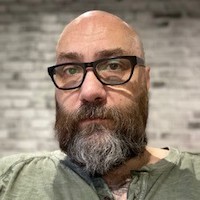 Darryl offers Counselling and Psychotherapy services.
I believe that our lives are best lived with a sense of purpose, and my purpose is to be of service to others. As such I work with people to help and support them in identifying and addressing their challenges and assist them with being present in their lives. Sometimes people are great at pretending everything's fine, even when their life is falling apart. Trying to carry the weight of the world all by yourself is a sure path to so many of the negative emotional and psychological issues we all face. My practice is both diverse and inclusive.
I am grateful to work with our community's First Responders addressing their work, incurred trauma and personal issues related to their service. My First Responder clients consistently share that it is easier to do this work when the person they are journeying with has a lived experience working alongside First Responders for decades.
One important focus of my practice is working with men regarding their sexual health and functioning. Through a Mindfulness based approach, I support men of all ages who are living with various sexual functioning issues such as ED. I am specifically trained to support men in addressing their sexual functioning following a cancer diagnosis.
I strive to be of service to persons who identify as part of the LGBTQ & Kink communities. I provide supportive counselling services to persons within this community in a culturally sensitive and sex positive environment.
Whether you're trying to figure yourself out, what you want, what your partner wants, we all need to be heard. If you're needing to talk through family, work/career, personal or sexual functioning/performance or identity issues, I can help you get clear on what's working, what isn't, and help you move forward in a better way. A more present, mindful way.
I work with people in all aspects of their lives. I can help you find better ways to be you and to thrive. I know it's hard to ask for help but I am here to support you. Today's the one day you don't have to do it alone. Let's work together to create a better life for you and those who count on you in your life, day in and day out. Let's do this, together.
Contact the Encompas Care Management Team to
Request an Appointment
Contact the Encompas Care Management Team to
Request an Appointment
Therapist Information
Offers Online Counselling
Age Groups Served
Early Adolescents, Late Adolescents, Adults, Older Adults/Seniors, Couples
Languages Spoken
English
Counsellor's Gender
Man
Therapist Type
Registered Social Worker
Conditions Treated
Social Anxiety, Support for Gender Transition, Assertiveness, School Problems, Parenting, Relaxation, Retirement, Social Skills Development, Cancer/Terminal Illness, group therapy, Self-Esteem and Identity Issues, Sports Psychology, Drug & Alcohol Use, Personality, Issues related to being in conflict with the law, Moral Injury, Occupational Stress Injury, Disruptive, Impulse Control and Conduct, Sanctuary Trauma, Intellectual Disability, Gender Dysphoria, Sex Addiction, Sexual Issues, Sexual Dysfunction, Emotion Regulation, ADHD, Adjustment issues, Adoption/Foster Care, Anger Management, Anxiety, Body Image, Bullying - School, Bullying - Workplace, Depression, Divorce & Separation, Grief & Bereavement, Panic Attacks, Post Traumatic Stress Disorder (PTSD), Postpartum Depression, Pre-Marital Counselling, Relationship Issues, Stress Management, Suicidal Ideation, Trauma
Therapeutic Approaches
Anger Solutions, Attachment Therapy, Behaviour Activation, Coaching, Cognitive Behavioural Therapy, Eclectic, Existential/Humanistic, Holistic, Humanistic, Indigenous Worldview, Life Coaching, Long Term Therapy, Mindfulness, Mindfulness-Based CBT, Mindfulness-Based Stress Reduction, Motivational Interviewing, Narrative, Psychodynamic, Sexology, Teaching Intimacy, Trauma-Focused
3 Locations Available
141 Wellington Street
Suite 4
St. Thomas, ON
N5R 2R8

Available day and evening

532 Adelaide Street N
London, ON
N6B 3J4

Available day and evening

London, ON
N5W 2G4

Available day and evening
Distance Counselling
Also Available!