Nancy Priftis
B.A.., M.A., Registered Psychotherapist
---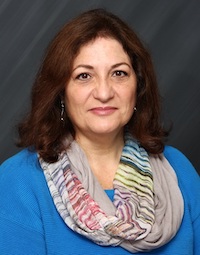 Nancy has an M.A in Counselling Psychology from the Adler School of Professional Psychology and is a member of the College of Registered Psychotherapists of Ontario (CRPO), the Ontario Association of Consultants, Counselors', Psychometrists' and Psychotherapists (OACCPP) and the Canadian Addiction Counselors' Certification Federation (CACCF).
Nancy has 15+ years of clinical experience working with adults and adolescents in a variety of settings. Nancy has experience working in mental health agencies, for Employee Assistance Programs and has been in private practice since 2003.
Nancy incorporates a variety of treatment approaches including Adlerian, Cognitive Behavioural, Art Therapy, and Solution Focused. She is fluent in English and Greek.
Nancy provides counselling and psychotherapy to individuals and couples via telephone, video conferencing, and face-to-face sessions.
Νάνσυ Πρίφτη
B.A., M.A.
Η Νάνσυ Πρίφτη προσφέρει Συμβουλευτικές και Ψυχοθεραπευτικές υπηρεσίες στο Τορόντο.
Συμβουλευτικές υπηρεσίες για:
Εφήβους και Ενήλικους
Ψυχολογικές υπηρεσίες:
Γνωστική Συμπεριφοριστική Θεραπεία:  Ατομική, Ζεύγους και Οικογένειας.  Υπηρεσίες προσφέρονται στο γραφείο ή εξ αποστάσεως (δια τηλεφώνου ή βίντεο).
Ειδικότητα Θεραπείας:
Θέματα Διαπροσωπικών Σχέσεων, Εθισμοί (σε ναρκωτικά, αλκοόλ, χαρτοπαιγνία/τζόγο, σεξουαλικοί κλπ), Συμπτώματα Αγχους, Στρές και Κατάθλιψης, Διαχείριση Χρόνιου Πόνου, Χαμηλή Αυτοεκτίμηση, Κακοποιήσεις (σεξουαλικές, σωματικές ή αισθηματικές), Ψυχολογικά Τραύματα.
Υπηρεσίες προσφέρονται σε δυο γλώσσες:
Αγγλικά ή Ελληνικά
Συμβουλευτικές Υπηρεσίες στο Τορόντο
70 East Beaver Creek, Unit 30
Richmond Hill, ON
L4B 3B2
Ραντεβού: Καθημερινές 5:00-8:00 μ.μ. και Σάββατο 10:00-2:00
Προφίλ:
Η Νάνσυ εξασκεί το επάγγελμα συμβούλου και ψυχοθεραπεύτριας στην ευρύτερη περιοχή του Τορόντο (Καναδά) υπό την εποπτεία ψυχολόγου, εγκεκριμένου από το Κολλέγιο Ψυχολόγων του Οντάριο.
Κατέχει πτυχίο Masters (M.A) Συμβουλευτικής Ψυχολογίας από το Adler School of Professional  Psychology (Chicago, USA) και είναι μέλος του συλλόγου Συμβούλων, Ψυχοθεραπευτών και Ψυχομετριτών του Οντάριο καθώς  και μέλος  της Καναδικής Ομοσπονδίας Πιστοποιημένων Συμβούλων Εθισμού.
Η Νάνσυ έχει 10 χρόνια κλινική εμπειρία εργαζόμενη με ενήλικoυς, εφήβους και με διάφορες καταστάσεις. Εχει  επίσης εμπειρία εργαζόμενη σε οργανισμούς Ψυχικής Υγείας, κατά το διάστημα εργασίας της σε εθνικό δίκτυο παροχής υπηρεσιών αλλά και στο το δικό της γραφείο.
Στην εργασία θεραπείας  της συμπεριλαμβάνει διάφορους τρόπους προσέγγισης όπως Adlerian, Cognitive-Behavioural Therapy, Art Therapy and Solution Focused. Είναι επίσης επικεφαλής καθηγήτρια του προγράμματος Εθισμών και Κοινωνικών Υπηρεσιών σε ιδιωτικό κολέγιο του Τορόντο.
Contact the Encompas Care Management Team to
Request an Appointment
Contact the Encompas Care Management Team to
Request an Appointment
Therapist Information
Offers Distance Counselling
Age Groups Served
Children within the context of family counselling model, Adolescents, Early Adolescents, Late Adolescents, Adults, Couples
Languages Spoken
English, Greek
Counsellor's Gender
Woman
Therapist Type
Registered Psychotherapist
Conditions Treated
Social Anxiety, Drug Addiction, Support for Gender Transition, Assertiveness, School Problems, Parenting, emotional regulation, Relaxation, Retirement, Social Skills Development, Alcohol Addiction, Self-Esteem and Identity Issues, Drug & Alcohol Use, Cognitive Behaviour Therapy, Behaviour Activation, Gambling Addiction, Moral Injury, Occupational Stress Injury, Gender Dysphoria, Abuse, Academic Performance Issues, Addiction, Adjustment issues, Alcohol Abuse, Anger Management, Anxiety, Body Image, Boundaries, Bullying - School, Bullying - Workplace, Career and Work Related Issues, Career/Work Performance Issues, Change and Transition, Childhood Sexual Abuse, Chronic Illness, Codependency, Communication and Intimacy, Compassion Fatigue, Conflict Resolution, Depression, Divorce & Separation, Ethnic/Minority Issues, Gender & Identity Issues, Grief & Bereavement, Marital Issues, Menopause, Mood Disorders, Motor Vehicle Collisions, Obsessive Compulsive Disorder (OCD), Pain Management, Panic Attacks, Post Traumatic Stress Disorder (PTSD), Postpartum Depression, Pre-Marital Counselling, Pregnancy/Childbirth, Rehabilitation, Relationship Issues, Seasonal Affective Disorder (SAD), Self Esteem, Self Harm, Sexual Orientation, Sleep Disorders, Stress, Stress Management, Suicidal Ideation, Trauma
Therapeutic Approaches
Person-Centered, Adlerian, Art Therapy, Cognitive Behavioural Therapy, Desensitization, Distance Counselling, Eclectic, Emotionally Focused Therapy, Emotionally Focused Couples Therapy, Existential/Humanistic Therapy, Family Systems, Feminist, Gestalt, Harm Reduction Therapy, Humanistic, Hypnotherapy, Inner Child, Mindfulness, Motivational Interviewing, Problem Solving Therapy, Psychodynamic Therapy, Rogerian, Short Term Therapy, Solution Focused Therapy, Trauma-Focused
2 Locations Available
1530 Pharmacy Ave
Scarborough, ON
M1R 2K2

Tuesday: 9:00am - 12:00pm Friday: 9:00am - 5:00pm Saturday: 9:30am - 2:30pm

Ellesmere & Victoria Park Ave area, Toronto

Tuesday: 9:00am - 12:00pm Friday: 9:00am - 5:00pm Saturday: 9:30am - 2:30pm
Distance Counselling
Also Available!