Sandra Norris
Registered Psychotherapist
---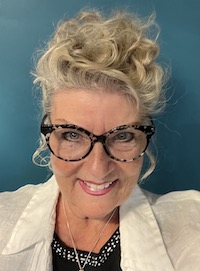 Sandra is a Registered Psychotherapist and practices in Cobourg under the supervision of a Registered  Psychologist or Registered Psychological Associates who are member of the College of psychologists of Ontario.
Sandra has been in private practice, operating the Mind-Body Health Centre for over 26 years.  She works eclectically and has had a various & extensive career as an owner/operator psychotherapist in Toronto and Cobourg working in the field of Addictions and Mental Health.
Whatever treatment you would like to work through with me, whether it is individual, marriage or group, I provide a safe, warm atmosphere with a non-judgmental focus. This allows you to explore your issues, discover what you need, and acquire support to formulate your ideas, tools & get clarity. These tools raise your awareness & assist you to get your present and future goals met. I am a knowledgeable, compassionate and effective practitioner and in partnership with my clients, together, we meet their goals.
My focus is client-centred and eclectic while developing a critical client-therapist trust relationship that determines successful sessions together.  I apply various approaches throughout,  ie: Mindfulness Cognitive Behavioural Therapy, Emotional Awareness and Release, Addiction related insight, Co-dependency patterns, and shed light on other behaviours that may restrict your goals.
I have facilitated group therapy with men and women both separately and together for over 26 years. My groups are committed, closed groups and run for 6 months at a time. I believe that groups work extremely well.  Peer support provides confidence, support, acknowledgement and a sense of community for its members.
I am a Registered Psychotherapist, a Clinical Member of Dalton Associates, a Clinical Member of the Ontario Society of Psychotherapists and a Member of The Association of Registered Psychotherapists & Mental Health Professionals.
Contact the Encompas Care Management Team to
Request an Appointment
Currently not accepting new clients
Currently not accepting new clients
Therapist Information
Offers Online Counselling
Offers In-Person Counselling
Age Groups Served
Early Adolescents, Late Adolescents, Adults, Older Adults/Seniors, Families
Languages Spoken
English
Counsellor's Gender
Woman
Therapist Type
Registered Psychotherapist
Conditions Treated
Social Anxiety, Somatic Symptoms, Drug Addiction, Support for Gender Transition, Assertiveness, Hoarding, Amputee Issues, School Problems, Parenting, emotional regulation, Relaxation, Retirement, Social Skills Development, Spiritual/Religion, Cancer/Terminal Illness, Chronic Fatigue / Fibromyalgia, group therapy, Self-Esteem and Identity Issues, Drug & Alcohol Use, Personality, Moral Injury, Occupational Stress Injury, Sanctuary Trauma, Gender Dysphoria, Sexual Issues, Weight Control, Conversion Disorder, Abuse, Academic Performance Issues, Addiction, Adjustment issues, Adoption/Foster Care, Alcohol Abuse, Anger Management, Anxiety, Attachment, Body Image, Borderline Personality Disorder, Boundaries, Brain Injury Counselling, Bullying - School, Bullying - Workplace, Career and Work Related Issues, Career/Work Performance Issues, Change and Transition, Childhood Sexual Abuse, Chronic Illness, Codependency, Communication and Intimacy, Crisis, Depression, Divorce & Separation, Eating Disorders, Ethnic/Minority Issues, Gender & Identity Issues, Grief & Bereavement, Learning Disabilities, Marital Issues, Menopause, Motor Vehicle Collisions, Pain Management, Panic Attacks, Post Traumatic Stress Disorder (PTSD), Postpartum Depression, Pre-Marital Counselling, Rehabilitation, Relationship Issues, Seasonal Affective Disorder (SAD), Self Esteem, Self Harm, Sexual Orientation, Sleep Disorders, Stress, Stress Management, Suicidal Ideation, Terminal Illness, Trauma
Therapeutic Approaches
Anger Solutions, Attachment Therapy, Behavioural, Body Centered Therapy, Christian Counselling, Cognitive Behavioural Therapy, Dialectical Behaviour Therapy (DBT), Distance Counselling, Emotionally Focused Therapy, Energy Therapy, Exposure Therapy, Harm Reduction Therapy, Humanistic, Imago Therapy, Inner Child, Long Term Therapy, Mindfulness, Mindfulness-Based CBT, Mindfulness-Based Stress Reduction, Person-Centred, Problem Solving Therapy, Psychodynamic, Teaching Intimacy, The Grief Recovery Method®, Transpersonal Psychology, Trauma-Focused
Communities Served
First Responders and Emergency Personnel
Location
672 Burnham St., Cobourg, ON

Monday to Thursday 8:30am-5:00pm Fridays 8:30am-1:00pm
Distance Counselling
Also Available!