Tahir Iqbal Malik
Registered Psychotherapist M.Sc., ADCP, Member of OAMHP, Certified CBT Practitioner, Board Certified Neurofeedback (BCN) BCIA
---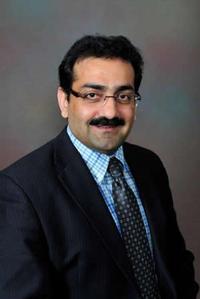 Tahir is a seasoned mental health professional serving his clients since 1993. He is working as director/founder of FOCUS CENTRE (Optimizing Brain Function) and posses diversified experience and knowledge of treating numerous mental health disorders. His therapy is based on innovative and advanced evidence-based approaches. His eclectic approach includes Cognitive Behavior Therapy, Neurofeedback & Biofeedback brain, and physiological training. Options to deliver service including by phone, video, in-home and in-person are available.  Office locations are available in both Mississauga and Brampton. Tahir provides psychological services under the supervision of Psychologists as well.
Tahir is helping his clients using solution-focused, client-centered approaches and paying them unconditional positive regards. He works in collaboration with his clients and provides them support within professional & therapeutic boundaries. Tahir has a master's degree and advanced diploma in clinical psychology. He is a member of the Ontario Association of Mental Health Professionals (OAMHP) and Board Certified in Neurofeedback.Tahir has extensive experience in assessing and providing treatments for the following issues:
Anxiety Disorders (Fears, PTSD, Panic – Attacks, Obsessive-compulsive disorder, tension headaches
Depression (dysthymia, chronic low-grade depressive mood)
Stress & related disorders
Anger Management
ADD/ADHD, LD, Autism spectrum disorder
Motor Vehicle and Workplace Accidents
Loss & Greif bereavement
Work-related stress and relationship issues
Couples & Family issues
Optimal Performance Training for executives & students to reach their peak performance in School, College, & University
Contact the Encompas Care Management Team to
Request an Appointment
Contact the Encompas Care Management Team to
Request an Appointment
Therapist Information
Offers Distance Counselling
Age Groups Served
Adolescents within the context of family counselling model, Children within the context of family counselling model, Adolescents, Children (6-11yrs), Early Adolescents, Late Adolescents, Adults, Older Adults/Seniors, Couples, Families
Languages Spoken
English, Hindi, Punjabi, Urdu
Counsellor's Gender
Man
Therapist Type
Registered Psychotherapist
Conditions Treated
Social Anxiety, Somatic Symptoms, Pornography Addiction, Internet Addiction, Drug Addiction, Dementia - caregiver, Assertiveness, Amputee Issues, School Problems, Parenting, emotional regulation, Relaxation, Relationship Problems, Social Skills Development, Cancer/Terminal Illness, Chronic Fatigue / Fibromyalgia, Insomnia / Sleep Disorders, Alcohol Addiction, group therapy, Self-Esteem and Identity Issues, Sports Psychology, Drug & Alcohol Use, Autism and Neurodevelopmental, Sleep-Wake, Dementia, Gambling Addiction, Moral Injury, Occupational Stress Injury, Disruptive, Impulse Control and Conduct, Sanctuary Trauma, Intellectual Disability, Smoking Cessation, Sex Addiction, Behavioural, Sexual Issues, Sexual Dysfunction, Conversion Disorder, paraphilic disorders, Neurodegenerative Diseases, Abuse, Academic Performance Issues, Addiction, ADHD, Adjustment issues, Alcohol Abuse, Anger Management, Anxiety, Autism Spectrum Disorder (ASD), Behavioural Challenges, Bipolar Disorder, Body Image, Borderline Personality Disorder, Boundaries, Brain Injury Counselling, Bullying - School, Bullying - Workplace, Career and Work Related Issues, Career/Work Performance Issues, Change and Transition, Childhood Sexual Abuse, Chronic Illness, Codependency, Communication and Intimacy, Compassion Fatigue, Conflict Resolution, Criminal Behaviour, Depression, Dissociative Disorders, Divorce & Separation, Ethnic/Minority Issues, Gender & Identity Issues, Grief & Bereavement, Learning Disabilities, Marital Issues, Memory Issues, Menopause, Mood Disorders, Motor Vehicle Collisions, Obsessive Compulsive Disorder (OCD), Pain Management, Panic Attacks, Personality Disorder, Phobias, Post Traumatic Stress Disorder (PTSD), Postpartum Depression, Pre-Marital Counselling, Rehabilitation, Relationship Issues, Seasonal Affective Disorder (SAD), Self Esteem, Self Harm, Sexual Orientation, Sleep Disorders, Stress, Stress Management, Suicidal Ideation, Terminal Illness, Trauma
Therapeutic Approaches
CPT (cognitive processing therapy), Anger Solutions, Attachment Focused Family Therapy, Behaviour Activation, Biofeedback, Cognitive Behavioural Therapy, Desensitization, Eclectic, Emotionally Focused Therapy, Emotionally Focused Couples Therapy, Energy Healing, Family Systems, Family Therapy, Harm Reduction Therapy, Mindfulness, Mindfulness-Based CBT, Mindfulness-Based Stress Reduction, Motivational Interviewing, Neuro-Linguistic Programming, Neurofeedback, Rational Emotive, Reality, Relational, Short Term Therapy, The Grief Recovery Method®, Trauma-Focused
2 Locations Available
10 Lormel Gate., Brampton, ON
Unit 8

Tuesday: 2:00pm - 8:00pm Wednesday - Thursday: 10:00am - 8:00pm Friday: 10:00am - 12:00pm Weekends by request

32 Village Centre Place, Suite # 208, Mississauga ON L4Z 1V9

Tuesday: 2:00pm - 8:00pm Wednesday - Thursday: 10:00am - 8:00pm Friday: 10:00am - 12:00pm Weekends by request
Distance Counselling
Also Available!