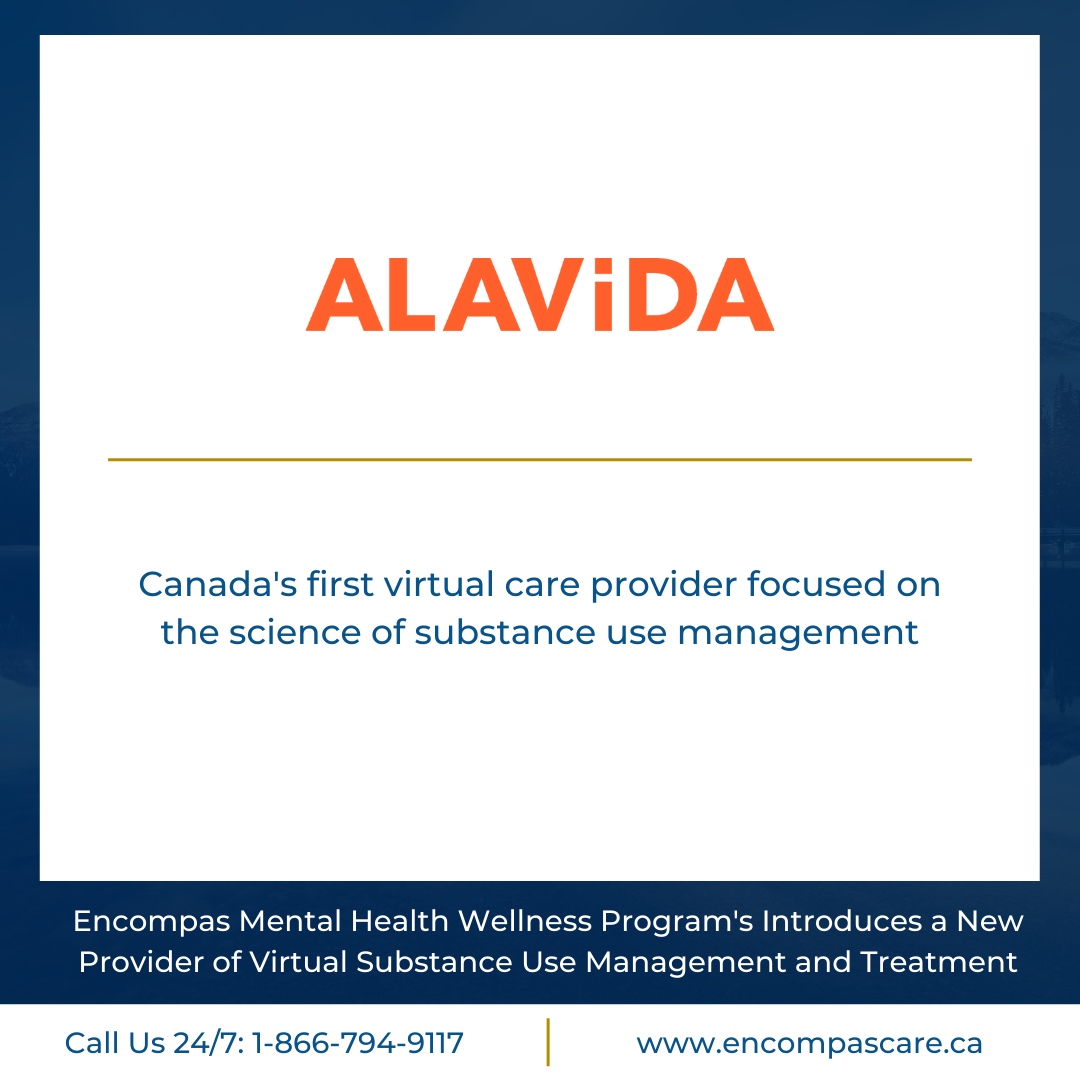 The Encompas Mental Health Wellness Program has connected with and vetted a new resource for Members, which focuses on the science and treatment of substance use.
Substance use disorders are a common mental health challenge that affect people from all walks of life. That said, sometimes treatment options are inaccessible – such as a long-term residential program, or frequent in-person groups or individual sessions. Fortunately, virtual treatment can allow people to overcome these barriers to recovery. ALAViDA, Canada's first virtual substance use management care provider, is a science-based solution that delivers an immersive experience developed by medical professionals with a comprehensive background on substance use disorders and delivered by technology. ALAViDA's mission is to improve the treatment of substance use disorders by educating broadly to reduce the stigma and bringing the same scientific approach that has existed in other areas of the medical community for decades.
About ALAViDA – Virtual Substance Use Management Program
ALAViDA delivers personalized therapeutic programs for those challenged with Substance Use Disorders – alcohol or drugs, and connects patients with their behavioural coaches, therapists, and physicians who work as a team to deliver personalized care right to their smartphones. To learn more about ALAViDA, speak to an Encompas Care Manager at 1-866-794-9117 or visit https://try.alavida.co/encompas/
Encompas now offers two of ALAViDA's services to our OPPA Members, Hello Premium and Virtual Rehab.
About Hello Premium
Hello Premium is available through ALAViDA to Encompas-registered Members of the OPPA as well as their family members over the age of 19 and covered under the Canada Life Benefits Plan.
Hello Premium is an early intervention, therapist-assisted iCBT 20-week program designed to provide participants with tools and support for reducing or eliminating alcohol and/or other substance use. Participants will work through a curated sequence of modules, while utilizing daily journal and additional psychoeducational materials. Additionally, participants will have access to asynchronous messaging with a licensed ALAViDA therapist, as well as access to a physician by virtual appointment if applicable. Additional Hello Premium features include:
Resources accessible 24 h to guide participants on the ALAViDA TRAiL app
One-year extended access to the TRAiL app beyond the 20-week program
Self-assessment and self-tracking tools
Progress reporting for the participant
Optional medication management for substance use when applicable, as determined by a licensed physician
Virtual medical appointments, if applicable
Regular check-ins by the ALAViDA care team via email, phone, a secure video call or through the message feature in the TRAiL app
Asynchronous messaging with a registered therapist specialized in substance use care
Moderated peer sessions for member and/or family sessions
iCBT modules – evidence-based therapeutic content to help you understand your substance use, strengthen decision making and take control
Seasonal educational campaigns
About Virtual Rehab
Virtual Rehab is available for Encompas-registered OPPA members but may not be suitable for all and eligibility is determined on a case-by-case basis. A clinical screening assessment completed by a member of the Encompas Clinical Leadership Team or approved mental health professional, as well as approval by Encompas, is required. Please note this is not a First-Responder specific program.
Virtual Rehab is a physician-led and clinically intensive treatment designed for Members who need more intensive care. Members engage in one-on-one interactions on secure video appointments with a dedicated ALAViDA therapist and physician specialized in addiction and a personalized care plan with iCBT modules, pharmacotherapy, progress tracking, and optional group programming. This 100% virtual and confidential program includes the following features:
24 h access to the TRAiL app where members access iCBT resources and their journal which allows the ALAViDA clinical team to follow along the progress
Weekly check-ins by an ALAViDA therapist
Personalized ALAViDA care plan
Scheduled virtual Doctor appointments
Virtual one-on-one therapy sessions
Medication management
Moderated peer sessions
Progress reporting for the participant
Encompas continues to strive for excellence in all support services we offer, from courses offered to members and their families to resources for treatment of any mental health challenges. We are honoured to provide our members with an alternative treatment resource designed to help people reduce their consumption and regain control in their relationship with alcohol or substances.