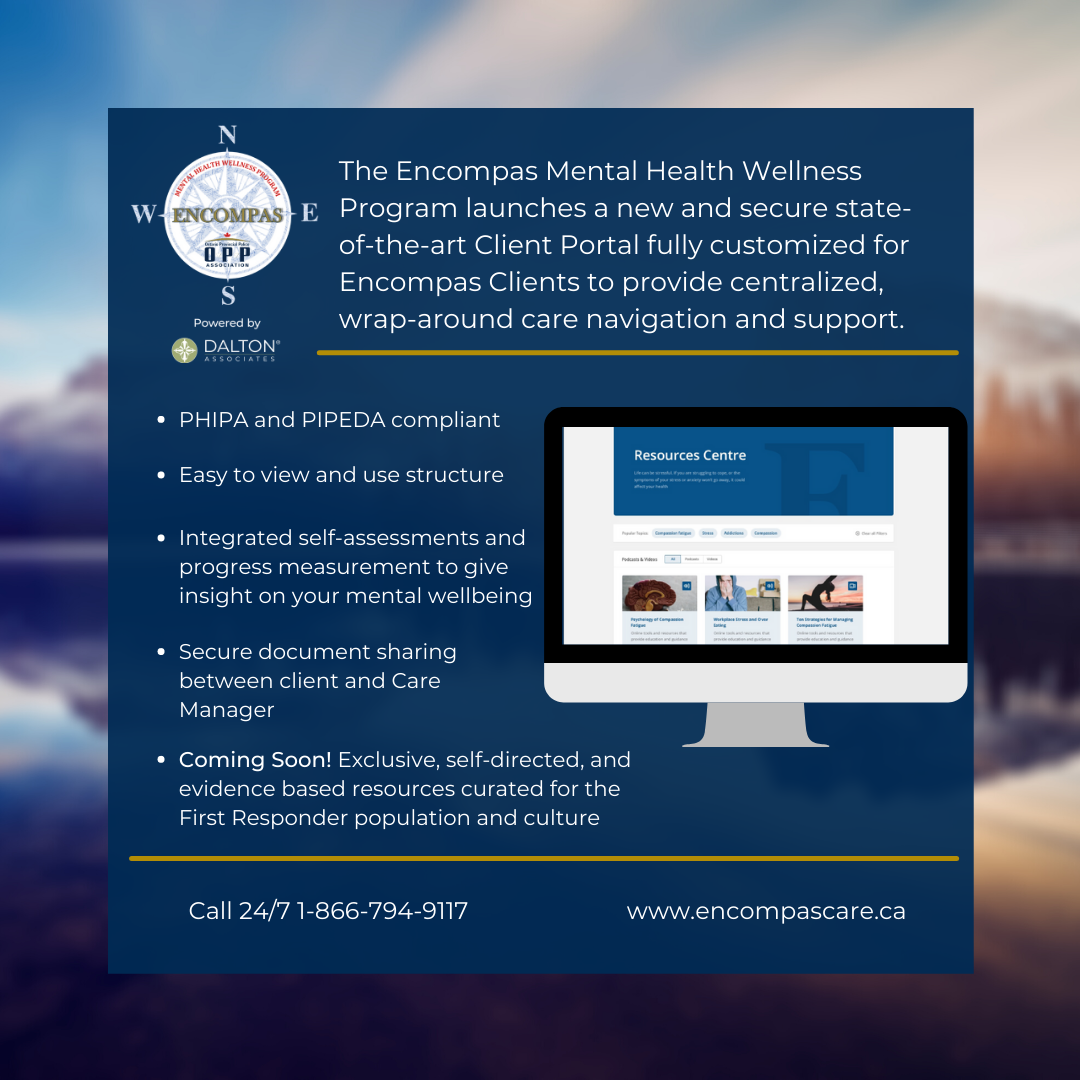 April 6, 2021
About the New Member Client Portal
The Encompas Program was designed to minimize barriers and facilitate easy, streamlined access to quality mental health treatment by providing centralized, wrap-around care navigation and support. And, over the course of the Encompas Program's first year, we are pleased to have helped several hundred OPPA Uniformed and Civilian Members and their families, connect with quality treatments for their mental health issues that we know has made a tremendous difference in the lives of many OPPA Members.
In keeping with our commitment to delivering ongoing quality program evolution, we are excited to launch a new and secure state-of-the-art Client Portal that has been fully customized for Encompas clients. To build this portal, Encompas collaborated with an existing longstanding partner named Greenspace who provide a PHIPA and PIPEDA compliant health progress measurement platform. Together we built something truly unique for Encompas clients.
We are excited to launch our new Member's only portal because:
This is a centralized, unique, engaging and fully secure environment for Encompas Members only – Encompas provides you with a single place to go for mental health support.
The Portal provides Encompas clients with a secure place to communicate and collaborate with their Care Manager, to have visibility into their Care Plan and to be actively engaged in their treatment planning. We understand that feeling in control is an important part of recovery and wellbeing – this portal brings clients closer to managing their mental health and wellness.
This Portal houses evidence-based self-assessments and progress measurement tools that give clients a snapshot into their mental wellness today and into their progress overtime throughout treatment. Theses assessments provide a gauge around which clients can make informed treatment decisions in collaboration with their Care Manager and treatment provider.
And, coming soon this Spring, the Portal will also include and evidence-based, uniquely curated library of self-directed resources beneficial to those in the First Responder community. This will be a valuable destination for mental health education, skill-building, and holistic self-guided support.
In building this Portal one of our top priorities has been, and will continue to be, to securing evidence-based psych-educational resources that are pertinent to those Uniformed and Civilian members working in the First Responder community. We know that measurement-based care has been proven to increase the likelihood that a client succeeds in treatment, as does the level of client engagement and empowerment.
It has been an honour to support members of the OPPA since we first launched Encompas in March of 2020. As we surpass our one year, Encompas continues to strive for excellence in all support services we offer, and, are excited to launch this new Portal as part of our enhancement of the program and to better serve Encompas Members in their mental wellness journey.