Care Management and Support Service Navigation
Accessible, suitable, and reliable mental healthcare is the priority of the Encompas Mental Health Wellness Program.  Our bilingual Care Management team is available by telephone 24 hours per day, 7 days per week, 365 days per year; ready to support OPPA members towards sustainable mental wellness.
Our Care Managers will serve as your primary contact, service navigator, and advocate throughout your lifetime in the program. They will work with you to understand where challenges might lie and then connect you with the very best, confidential mental health support available. They will also follow-up regularly to ensure that you are satisfied with the services you are receiving and assess if there are adjustments needed along the way.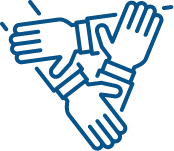 Virtual Mental Health Care
Encompas offers clients the option to have counselling sessions over the telephone or via secure online video conferencing. Both options are compliant with Ontario's Privacy Health Information Protection Act (PHIPA) and the Personal Information Protection and Electronic Documents Act (PIPEDA)